Food and dining are becoming a more central part of many travelers' vacation experiences. In fact, according to a new AAA Travel survey, an estimated 22 million Americans expect to take a culinary-focused vacation within the next year.
"We are seeing more and more travelers who don't just want to 'see' a new place, they actually want to 'experience' it, which often includes getting a taste of the local flavor" says Suzanne Aresco, AAA Director of Travel in the greater Hartford area. "Whether we're talking about fine French cuisine or farm to table dining, food is almost always an important part of the itinerary".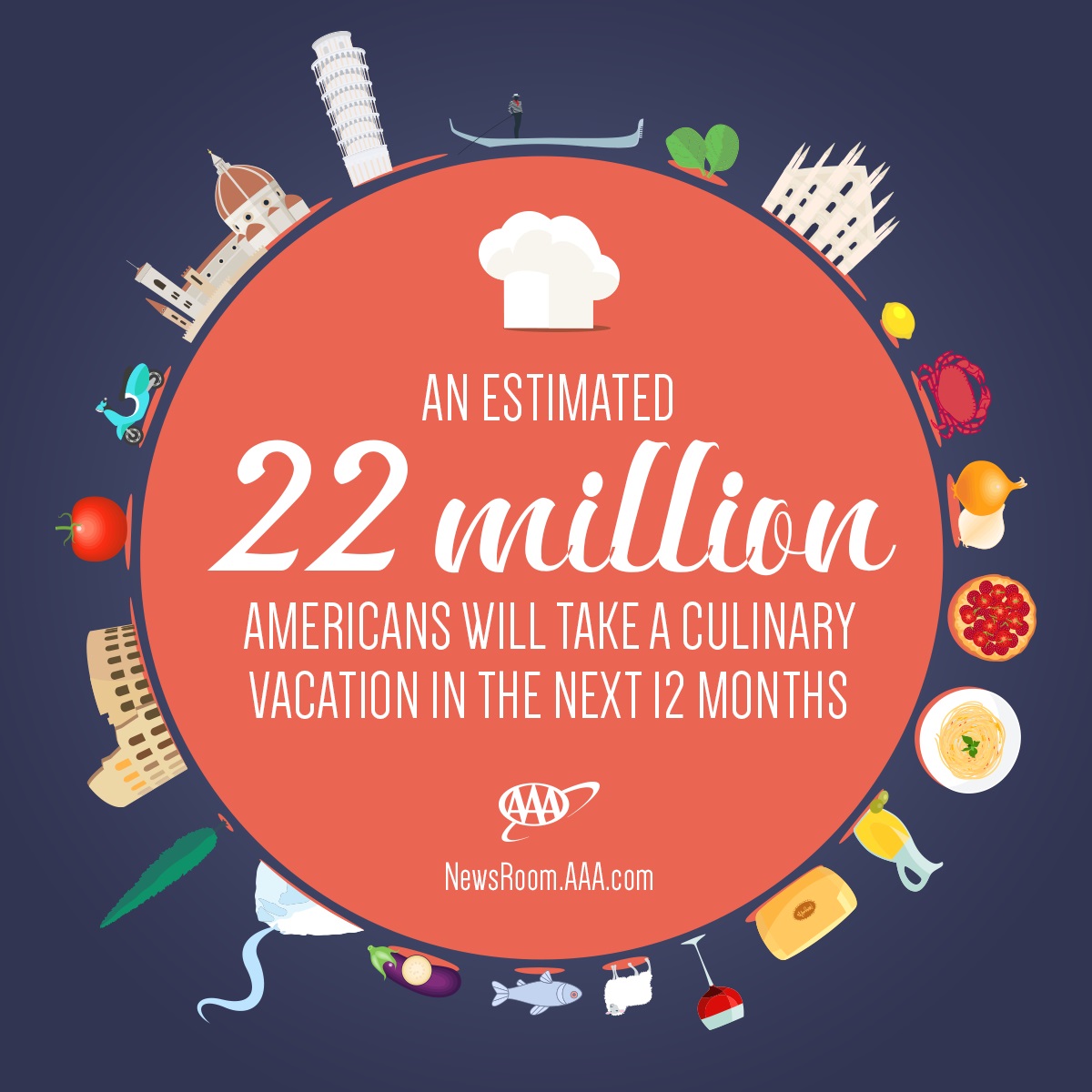 Seventy-five percent of Americans feel that food and dining are an important part of their travel experience and four of five say they have engaged in such unique activities as touring wineries and distilleries, eating with local families and engaging in hands-on experiences such as cooking classes led by local chefs while traveling.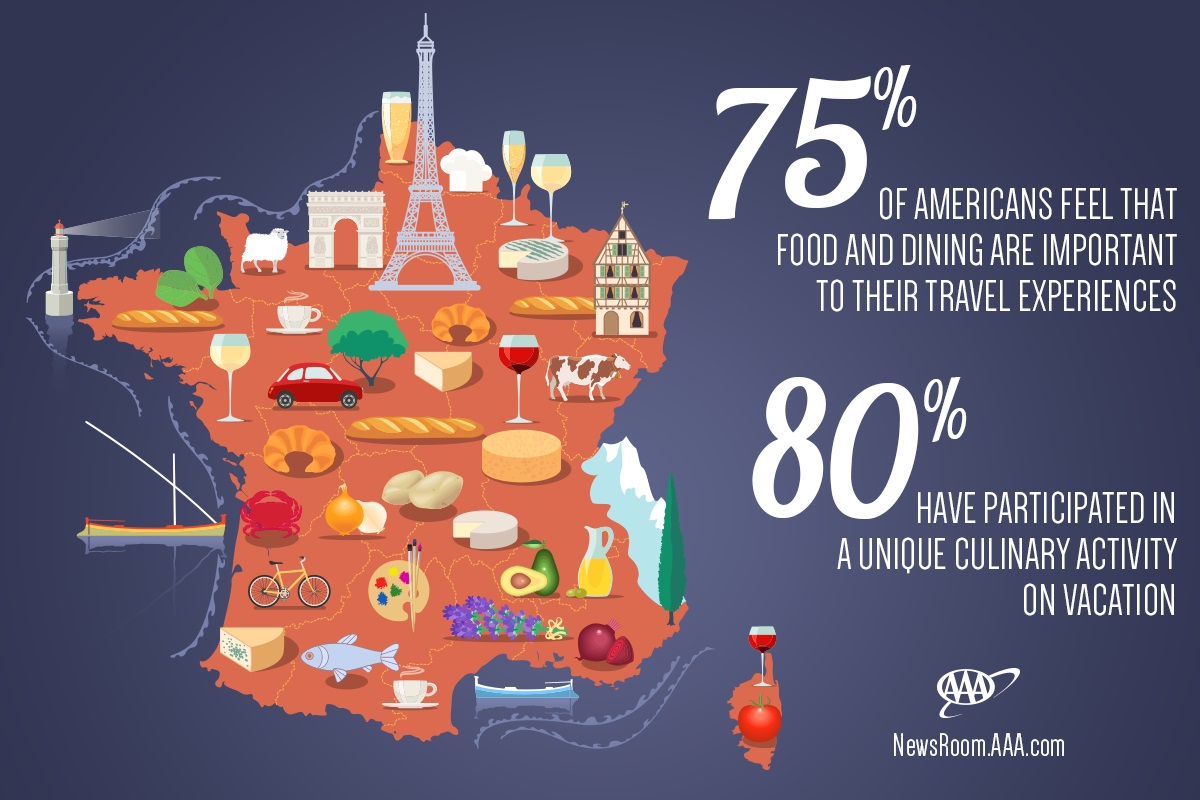 The younger generation is particularly interested in culinary travel, with 88 percent of millennials having participated in food-related experiences while vacationing, outpacing members of Generation X and Baby Boomers.
In fact, 43 percent of AAA travel agents report a recent increase in the number of members planning culinary-focused vacations, with most planning foodie trips to Italy, France and Spain.
Good News for Connecticut Tourism
The culinary travel trend bodes well for Connecticut's tourism industry.
"If you're one of the millions of Americans who say food and dining are important to your travel experience, then you need to add Connecticut to your vacation list" says Randy Fiveash, Director of the Connecticut Office of Tourism."
Tuned-in to the trend
, much of Connecticut's official tourism website, CTVisit.com, is devoted to 'culinary adventures'
 and boasts of restaurants for every taste – 'from top-rated dining destinations to roadside clam shacks',
"Connecticut is the ultimate food tourism destination: we have a long tradition of culinary greatness and some of the most innovative and new foodie stops and experiences in New England, including our renowned Connecticut Wine Trail and Connecticut Beer Trail", Fiveash says.
Plan Ahead to Save
AAA advisors say that one of the top mistakes travelers make when preparing for an international trip is not planning their meals and activities in advance.
"Travelers spent an average of $63 per person, per day on food and dining purchases during their last vacation," Aresco says. "Meals can quickly become a significant portion of a family's vacation budget, so planning ahead is key."
Travelers can find thousands of AAA Diamond Rated restaurants across the United States, Canada, Mexico and the Caribbean through the AAA Travel Guides and TripTik Travel Planner tool on 
AAA.com
 and in the AAA Mobile app.
All restaurants must meet and uphold rigorous minimum standards to pass an anonymous inspection and be approved by AAA. A rating of One to Five Diamonds is then assigned to describe the complexity of the restaurant's service, décor and food. The Diamond Ratings help diners find restaurants that offer the kind of experience they prefer, whether they want affordable, family-friendly establishments or to indulge in luxurious menu offerings and first-class service. For more information, visit
AAA.com/Diamonds
.
Follow us on Twitter: @AAAHartfordNews
CT Mailing Address:
815 Farmington Avenue
West Hartford, CT 06119
AAA provides automotive, travel and insurance services to 57 million members nationwide and more than one million members in Connecticut.  AAA advocates for the safety and mobility of its members and has been committed to outstanding road service for more than 100 years. The not-for-profit, fully tax-paying member organization works on behalf of motorists, who can now map a route, find local gas prices, discover discounts, book a hotel and track their roadside assistance service with the AAA Mobile app for iPhone, iPad and Android. For more information, visit www.aaa.com.
Related Articles