The Ultimate Road Trip – 99 Years in the Making
AAA Mapping Out Unique Plans for Hundreds of Travelers
August vacations in New England typically involve a trip to the mountains or the Cape but this year, thousands of travelers are mapping out a different route altogether. They are driving towards the sun – building a road trip around the so-called 'Eclipse across America'.
On Monday, August 21, all of North America will experience at least a partial eclipse of the sun but those within the so-called
path of totality
– from Oregon to South Carolina - will see get to see a total solar eclipse, when the moon completely covers the sun, leaving only a halo or corona in view.
Dubbed the "Eclipse Across America," this once-in-a-lifetime event (the last total solar eclipse to cross the U.S. from coast-to-coast happened in 1918) will prove to be a tourist and vacationer's dream, as it occurs during the final few weeks of summer. 
"This is really a unique 'destination' and a unique opportunity for those with a little sense of adventure to experience something special," says Suzanne Aresco, AAA Director of Travel. "The excitement has been growing for weeks now in all our AAA offices and, along with it, the number of people stopping by for help mapping out their trips has been growing as well".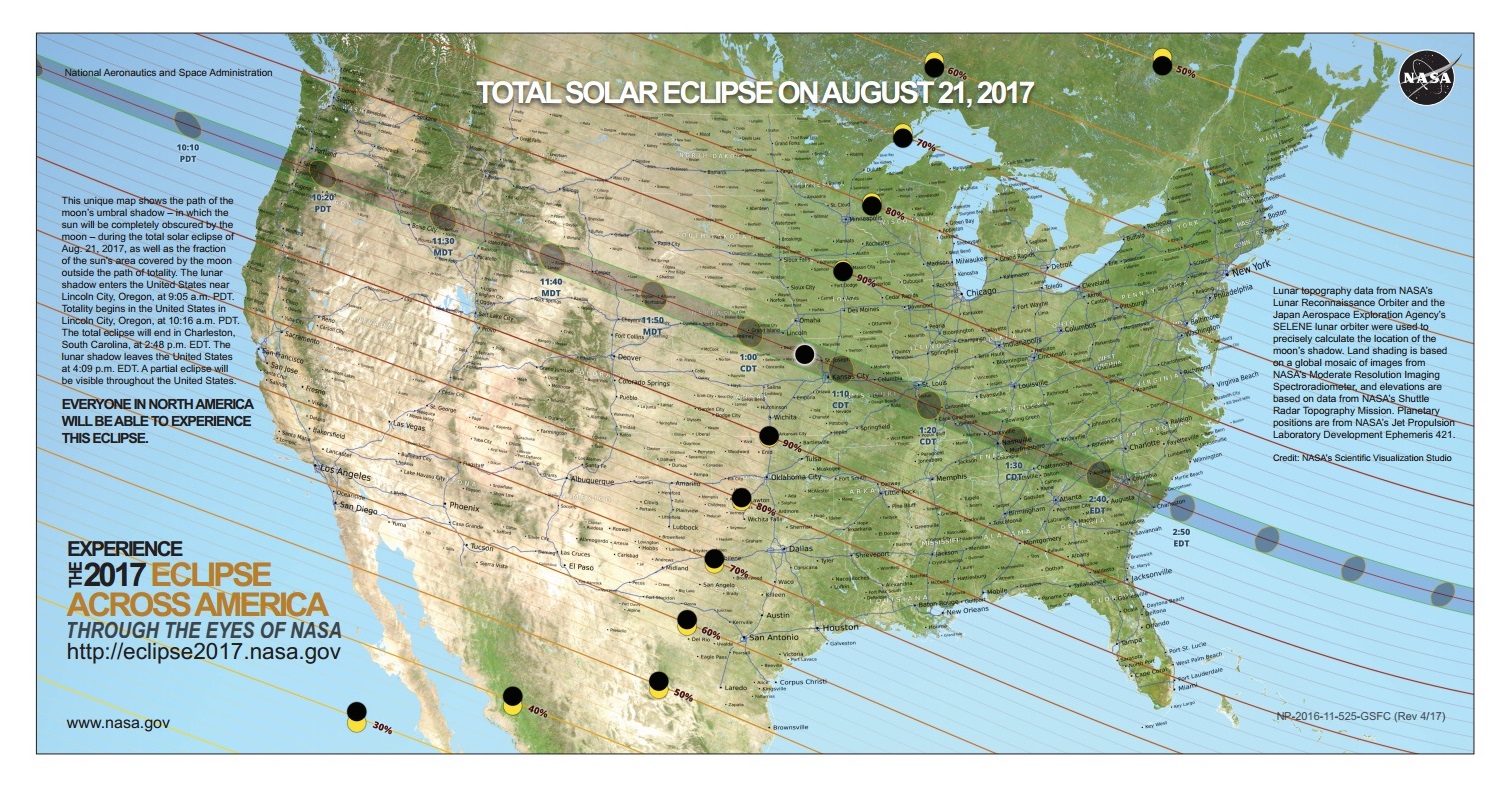 The path of the total eclipse will stretch from Lincoln Beach, Oregon to Charleston, South Carolina.
More than 250 million Americans live within 600 miles of the total eclipse path and, because the eclipse will take place on a Monday, the trek to see it could start as early as the Friday before.
"Everyone in North America, including Alaska and Hawaii, will experience the eclipse in some form," Aresco says. "If you're planning to travel to the path of totality, we recommend you plan out every detail – select a destination, map out a route, allow plenty of travel time and be flexible. Many hotels and camp grounds are already booked."
The path of totality will pass over 14 states,
starting on the coast of Oregon, at 10:15 a.m. Pacific daylight time, and leaving American soil via McClellanville, S.C., at 2:49 p.m., Eastern daylight time. It will cross cities in Oregon, Idaho, a sliver of Montana, Wyoming, Nebraska, Kansas, Missouri, a sliver of Iowa, Illinois, Kentucky, Tennessee, Georgia, North Carolina and South Carolina. Darkness will last anywhere from a few seconds to two minutes 41 seconds, depending on the location.
Thinking about heading to a viewing location?
AAA reports that some of the travel agency's top TripTik drive destinations this summer are also good places to view the eclipse: Nashville, TN, Great Smoky Mountain National Park (top visited National Park); Columbia, SC and Charleston, SC.
In addition, the best cities/places for viewing the "path of totality," as noted by science experts will likely be:
Madras OR

Snake River Valley ID

Casper WY

Sandhill's of Western Nebraska

St Joseph MO

Carbondale IL

Hopkinsville KY

Nashville TN

Great Smoky Mountains NP

Columbia SC
If you are planning an eclipse road trip, AAA offers the following tips:
Try to get to your viewing location one to two days ahead of the eclipse (Aug. 21).

Pack your patience and plan for congestion on the road, especially as you get closer to locations within the path of totality.

Keep up to date on weather conditions – if you find your original location may be cloudy/rainy, you may consider moving to another location.
What to Expect – 2017 Solar Eclipse Obstruction and Timeline
City, State

Obstruction

(% of totality)

Start Time

Peak Time

End Time

Duration

Hartford, CT

67%

1:25 pm

2:45 pm

4:00 pm

2 hr., 34 mins.

New York, NY

77%

1:23 pm

2:44 pm

4:00 pm

2 hr., 40 mins.

Trenton, NJ

79%

1:22 pm

2:44 pm

4:01 pm

2 hr., 40 mins.

Atlantic City, NJ

80%

1:23 pm

2:46 pm

4:03 pm

2 hr., 40 mins.

Philadelphia, PA

80%

1:21 pm

2:44 pm

4:01 pm

2 hr., 40 mins.

Wilmington, DE

81%

1:20 pm

2:43 pm

4:01 pm

2 hr., 40 mins.

Baltimore, MD

83%

1:18 pm

2:42 pm

4:01 pm

2 hr., 40 mins.

Washington, DC

85%

1:17 pm

2:42 pm

4:01 pm

2 hr., 40 mins.

Raleigh, NC

94%

1:16 pm

2:44 pm

4:06 pm

2 hr., 49 mins.

Charleston, SC

100%

1:16 pm

2:47 pm

4:09 pm

2 hr., 53 mins.
 

AAA provides automotive, travel and insurance services  to 57 million members nationwide and more than one million members in Connecticut. AAA advocates for the safety and mobility of its members and has been committed to outstanding road service for more than 100 years. The not-for-profit, fully tax-paying member organization works on behalf of motorists, who can now map a route, find local gas prices, discover discounts, book a hotel and track their roadside assistance service with the AAA Mobile app for iPhone, iPad and Android. For more information, visit www.aaa.com.
Related Articles