Distraction Tops Drivers' List of Growing Dangers on the Road
Number of Drivers Using Cellphones Jumps almost 50% in Five Years
April is National Distracted Driving Awareness month but, a new AAA Foundation survey indicates that almost all drivers are already aware of the problem - and fear it is getting worse.
The annual Traffic Safety Culture Index survey by the AAA Foundation for Traffic Safety shows that 88 percent of drivers believe distracted driving is on the rise, topping other risky behaviors like:
Aggressive driving: 68 percent

Drivers using drugs: 55 percent

Drunk driving: 43 percent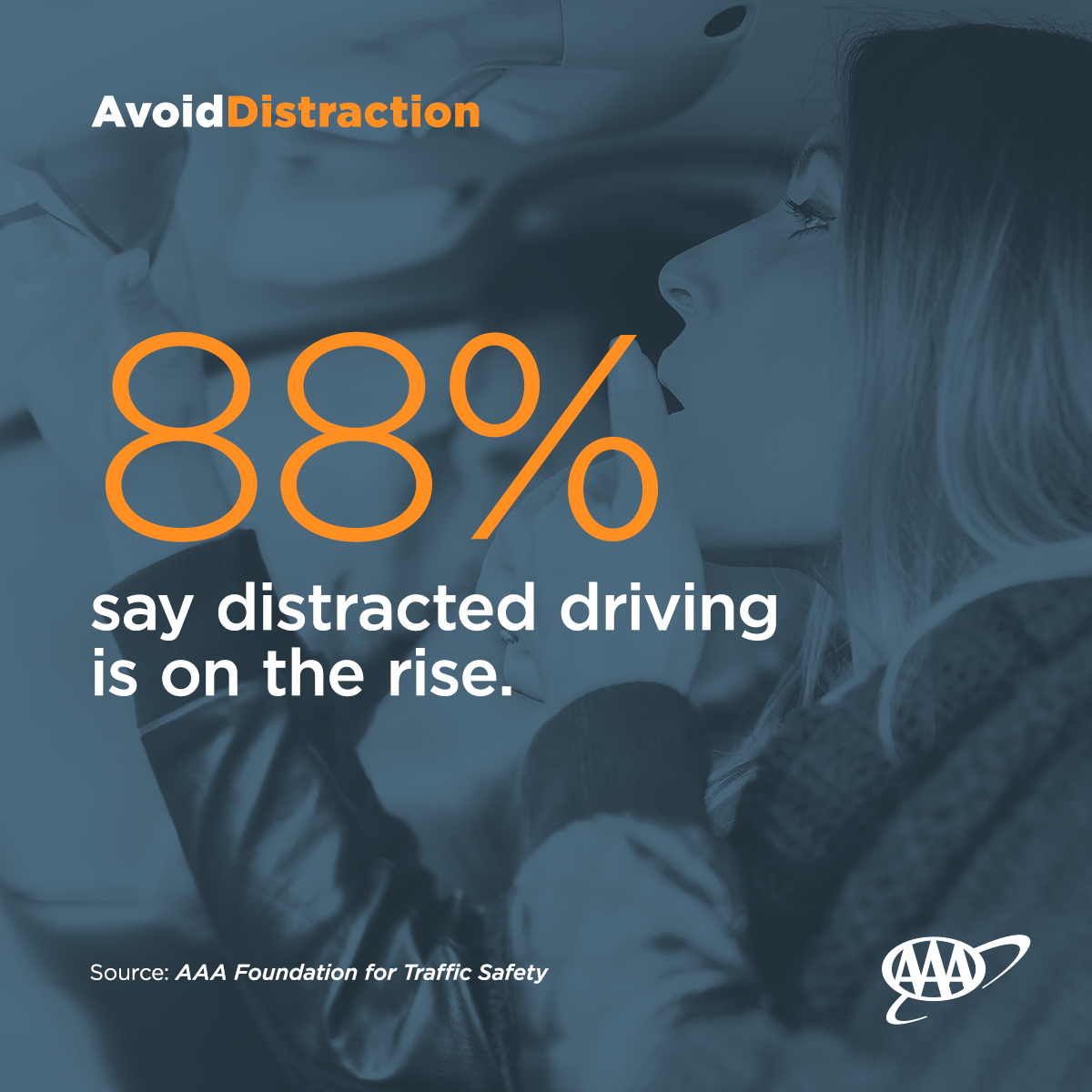 A Disturbing Trend
The number of drivers who report using a cellphone 'regularly' or 'fairly often' when behind the wheel jumped almost 50% percent since 2013. (Broll of cellphone use behind the wheel HERE).
Almost half of all drivers (49%) report recently talking on a hand-held phone while driving and nearly 35 percent have sent a text or email. Despite their own behavior, most drivers (nearly 58%) say talking on a cellphone behind the wheel is a very serious threat to their personal safety, while 78% believe that texting is a significant danger.
"What we have seen year after year is this 'do as I say not as I do' behavior. A sense that 'I can text but you can't', which is extremely troubling," says Amy Parmenter, spokesperson for AAA in Greater Hartford.
A recent study from the AAA Foundation shows drivers talking on a cellphone are up to four times as likely to crash while those who text are up to eight times as likely to be involved in a crash.
"The intention of the Traffic Safety Culture survey is to better understand drivers' perceptions and attitudes towards risky behaviors, so we can figure out the best possible way to address those issues and reduce crashes," Parmenter says. "With more than 37,000 fatal crashes every year, we've got to do everything we can to save more lives".
Drivers in the AAA survey believe the problem of distracted driving has increased over the past three years, with nearly 50 percent reporting that they regularly see drivers emailing or texting while driving. Although federal estimates indicate the number of distracted driving crashes has actually dropped two percent, that number is likely erroneous given that distracted driving is difficult to detect following a crash, which makes it one of the most under reported traffic safety issues. (Broll of distracted driving video HERE)
For instance, according to government estimates, distraction plays a factor in just 14 percent of all crashes. However, past AAA Foundation research with dash-cam video observing teen drivers (one of the most vulnerable driving populations), determined that distraction was a factor in 58 percent of crashes, 44 percent more than federal estimates.
"The number of distractions behind the wheel is increasing, from phone apps to in-vehicle technology, increasing the urgency to educate all drivers on the dangers of distraction," says Jennifer Shorette, Regional Director of AAA Driving Schools. "This is something we are, of course, addressing in our classrooms but distraction is not just a teen driving issue. It's an everybody issue."
Any level of risk is too high when it comes to safe driving. Tasks that require a driver to take their eyes or attention off the road should be avoided while the vehicle is in motion- including the use of cellphones, infotainment systems, or navigation systems.
AAA urges drivers to act responsibly when behind the wheel. In order to avoid distractions, drivers should (image attached):
Put aside electronic distractions and never use text messaging, email, video games or internet functions, including those built into the vehicle, while driving.

Pre-program your GPS and adjust seats, mirrors, climate controls and sound systems before driving.

Properly secure children and pets and store loose possessions and other items that could roll around in the car.

Snack smart by avoiding messy foods that can be difficult to manage.
The new survey results are part of the AAA Foundation's annual Traffic Safety Culture Index, which identifies attitudes and behaviors related to traffic safety. The survey data are from a sample of 2,613 licensed drivers ages 16 and older who reported driving in the past 30 days. The AAA Foundation issued its first Traffic Safety Culture Index in 2008, and the latest report is online at www.AAAFoundation.org.
Established by AAA in 1947, the AAA Foundation for Traffic Safety is a 501(c)(3) not-for-profit, publicly-supported charitable educational and research organization. Dedicated to saving lives and reducing injuries on our roads, the Foundation's mission is to prevent crashes and save lives through research and education about traffic safety. The Foundation has funded over 300 research projects designed to discover the causes of traffic crashes, prevent them and minimize injuries when they do occur.  Visit www.AAAFoundation.org for more information on this and other research.
Follow us on Twitter: @AAAHartfordNews
CT Mailing Address:
815 Farmington Avenue
West Hartford, CT 06119
AAA provides automotive, travel and insurance services to 58 million members nationwide and more than one million members in Connecticut.  AAA advocates for the safety and mobility of its members and has been committed to outstanding road service for more than 100 years. The not-for-profit, fully tax-paying member organization works on behalf of motorists, who can now map a route, find local gas prices, discover discounts, book a hotel and track their roadside assistance service with the AAA Mobile app for iPhone, iPad and Android. For more information, visit www.aaa.com.
Related Articles