ABCs of School Bus Safety
Tips from AAA as Students Head Back to Class
With students across Connecticut returning to school this week, AAA is encouraging drivers and pedestrians alike to put down their phones, pay attention and obey the rules of the road to ensure everyone's safety.
"Even though the calendar still says summer, the carefree mindset of the season must be behind us", says Amy Parmenter, spokesperson for AAA in Greater Hartford. "Drivers once again will be sharing the road with school buses and students and it's critical that everyone look out for each other".
That's why you'll see this message from AAA popping up along many of the more heavily trafficked roadways: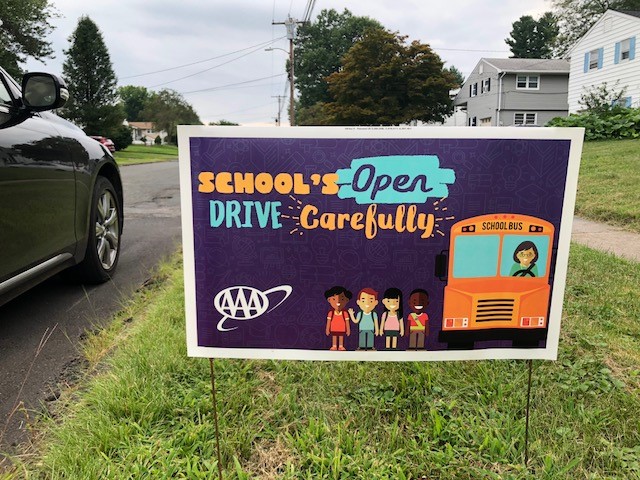 SCHOOL'S OPEN, DRIVE CAREFULLY
According to AAA, the greatest risk schoolchildren face is not riding the bus, but approaching or leaving it.
With that in mind, AAA is offering the following reminders:
Red flashing lights and extended stop arms indicate the bus has stopped, and children are getting on or off. Motorists are required to stop their vehicles and wait until the red lights stop flashing, the extended stop sign is withdrawn and the bus begins moving before they can start driving again.
Connecticut School Bus Laws and Penalties
By law, except when otherwise directed by a police officer, a motorist approaching a school bus displaying its flashing red signal lights must immediately stop his or her vehicle at least 10 feet from the front or rear of the bus and remain stopped until the bus no longer displays its red signal lights. 

At intersections, motorists are prohibited from turning toward a school bus that is receiving or discharging passengers.

And, school bus drivers can report anyone who breaks the law to police, who are then required by law to issue a ticket to the offending driver.

Violators are subject to a $450 fine for the first offense. For each subsequent offense, a violator faces a fine of $500 to $1,000, up to 30 days in jail, or both.

The Department of Motor Vehicles also assesses four points against a motorist's driver's license each time he or she is convicted of illegally passing a school bus. DMV suspends a driver's license after a person receives more than 10 points.
Follow us on Twitter: @AAAHartfordNews
CT Mailing Address:
815 Farmington Avenue
West Hartford, CT 06119
AAA provides automotive, travel and insurance services to 58 million members nationwide and more than one million members in Connecticut.  AAA advocates for the safety and mobility of its members and has been committed to outstanding road service for more than 100 years. The not-for-profit, fully tax-paying member organization works on behalf of motorists, who can now map a route, find local gas prices, discover discounts, book a hotel and track their roadside assistance service with the AAA Mobile app for iPhone, iPad and Android. For more information, visit www.aaa.com.
Related Articles