'Extra Hour' of Sleep Means Extra Risk for Everyone
Motorists, Cyclists and Pedestrians Face Increased Danger
Even though we are promised an extra hour of sleep this weekend, the time change early Sunday morning as Daylight Saving comes to an end can actually disrupt sleep patterns, increasing the number of drowsy drivers on our roads in the days that follow.
Making matters worse, come Monday, there will be greater sun glare during the morning commute and greater darkness at night, reducing visibility for drivers during the evening commute as well.
"The darkness and drowsiness drivers will experience with the clock change represents a double dose of danger," says Amy Parmenter, spokesperson for AAA in Greater Hartford. "And, the increased risk is not just for motorists, but bicyclists and pedestrians as well".
Statistics on Sleep Deprivation and Driving Risk
Drivers who miss between one to two hours of the recommended seven hours of sleep in a 24-hour period nearly double their risk for a crash, according to a December 2016 report from the AAA Foundation for Traffic Safety.
One in five fatal accidents in the U.S. are the result of drowsy driving.
Sleep-deprived drivers cause more than 6,400 deaths and 50,000 debilitating injuries on American roadways each year, according to the National Sleep Foundation (NSF).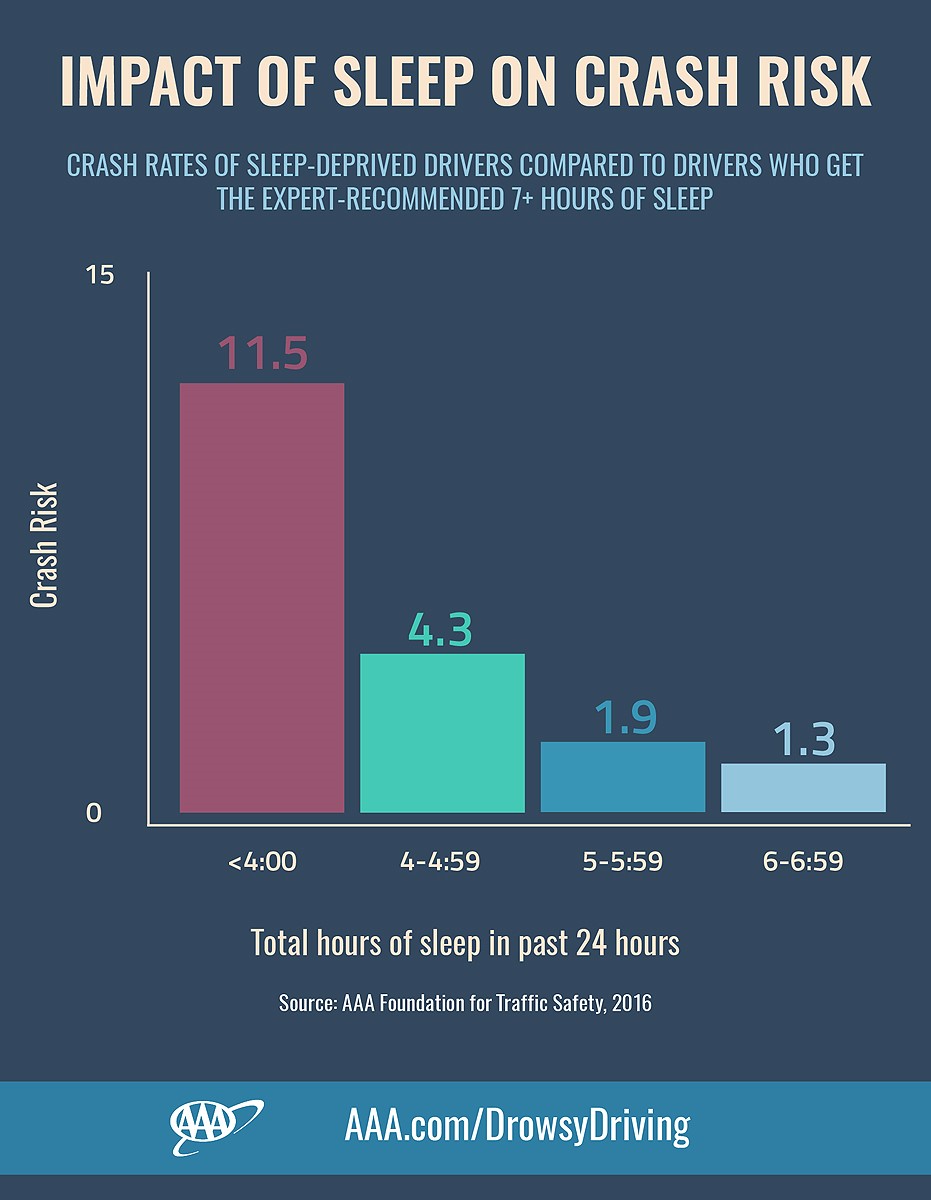 AAA offers the following Tips for Drivers during the adjustment period:
Slow down.

Turn on your headlights to become more visible during early morning and evening hours.

Keep vehicle headlights and windows (inside and out) clean.

Do not use high beams when other cars or pedestrians are around.

Yield the right of way to pedestrians in crosswalks and do not pass vehicles stopped at crosswalks.

When driving into the sun

, leave more following distance, use your sun visor, wear polarized sunglasses
AAA Offers these Tips for Pedestrians and Bicyclists
Cross only at intersections.  Look left, right and left again and only cross when it is clear. Do not jaywalk.

Cross at the corner - not in the middle of the street or between parked cars.

Avoid walking in traffic where there are no sidewalks or crosswalks. If you have to walk on a road that does not have sidewalks, walk facing traffic.

Evaluate the distance and speed of oncoming traffic before you step out into the street.

Wear bright colors or reflective clothing if you are walking or biking near traffic at night. Carry a flashlight when walking in the dark.

Avoid listening to music or make sure it is at a low volume so you can hear danger approaching.

Bicycle lights are a 'must have' item for safe night riding, especially during the winter months when it gets dark earlier.
Follow us on Twitter: @AAAHartfordNews
CT Mailing Address:
815 Farmington Avenue
West Hartford, CT 06119
AAA provides automotive, travel and insurance services to 58 million members nationwide and more than one million members in Connecticut.  AAA advocates for the safety and mobility of its members and has been committed to outstanding road service for more than 100 years. The not-for-profit, fully tax-paying member organization works on behalf of motorists, who can now map a route, find local gas prices, discover discounts, book a hotel and track their roadside assistance service with the AAA Mobile app for iPhone, iPad and Android. For more information, visit www.aaa.com.
Related Articles