New Report Indicates Motorcycle Deaths Down Nationwide
BUT...Connecticut Motorcycle Death Rate Higher Than Average
As we head into motorcycle season, a new report indicates that motorcycle deaths across the country were down slightly in 2017 but, in Connecticut, the number of motorcyclists killed last year represents a higher than average percentage of the total number of traffic fatalities, compared to most other states.
The new report, by the Governor's Highway Safety Association, indicates that, based on preliminary data, motorcycle deaths nationwide were down 5.6% in 2017 compared to 2016 – but in Connecticut, there was a drop of less than 2%.
"Motorcycle fatalities are a significant issue here in Connecticut, even more so than in most other states," says Amy Parmenter, spokesperson for AAA in Greater Hartford. "There have been three fatalities just this past week".
There have been more than 250 motorcyclists killed on Connecticut roadways in the past 5 years.
According to the GHSA report, nationwide, motorcycle deaths represent about 14% of all traffic fatalities. Here in Connecticut, motorcycle deaths represent 17.7% of all traffic fatalities, the 9th highest percentage of all states.

 

According to the National Highway Safety Administration, per mile driven, motorcyclists have a fatality rate 28 times higher than passenger vehicles.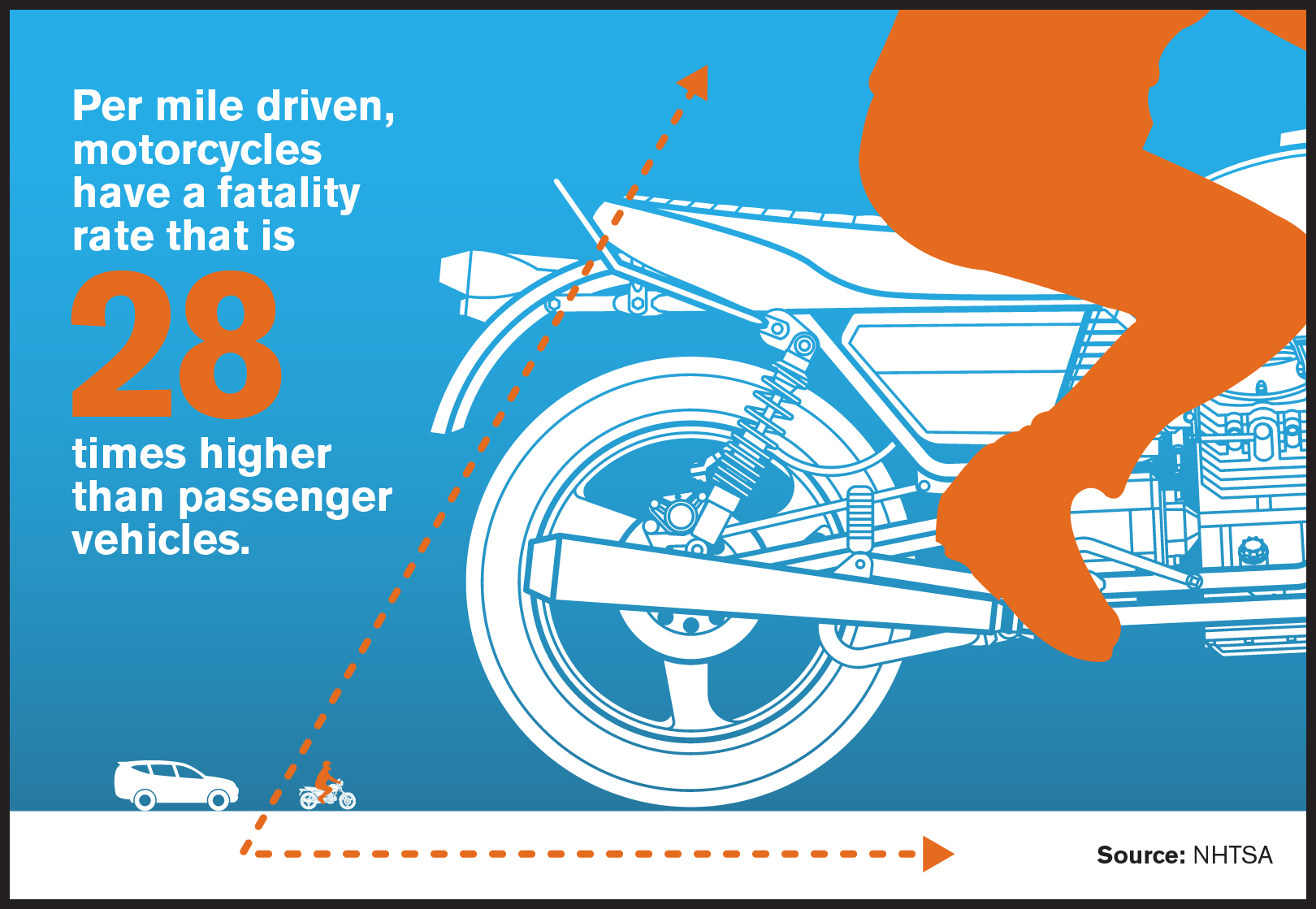 "There is no law in Connecticut requiring adult riders to wear a helmet but that statistic alone should be enough to encourage them to do so. Helmets save lives", Parmenter adds.
Don't Drink and Drive
NHTSA research (2016) indicates that 25% of all fatal motorcycle crashes involve alcohol – more than any other type of vehicle.
NHTSA research indicates that number is as high as 37% for motorcyclists involved in single vehicle crashes
May is National Motorcycle Safety Awareness Month. With that in mind, here are...
AAA Tips for Motorcyclist Safety:
Always wear a Helmet – both drivers and passengers

Wear brightly colored/reflective protective gear so you can be seen

Don't dodge between vehicles, maintain lane in traffic

Limit distractions

Never drive under the influence of drugs or alcohol
AAA Tips for Sharing the Road:
Limit distractions

Never drive under the influence of drugs or alcohol

Be extra cautious, especially on weekends, when there are a disproportionate number of crashes

Allow motorcyclists more room; follow at least 3-4 seconds behind them

Never try to share a lane with a motorcyclist; they have the same right as drivers to the full lane.

Before changing lanes, check mirrors carefully. Motorcycles are often lost in blind spots because they are smaller and harder to see
Follow us on Twitter: @AAAHartfordNews
CT Mailing Address:
815 Farmington Avenue
West Hartford, CT 06119
AAA provides automotive, travel and insurance services to 58 million members nationwide and more than one million members in Connecticut.  AAA advocates for the safety and mobility of its members and has been committed to outstanding road service for more than 100 years. The not-for-profit, fully tax-paying member organization works on behalf of motorists, who can now map a route, find local gas prices, discover discounts, book a hotel and track their roadside assistance service with the AAA Mobile app for iPhone, iPad and Android. For more information, visit www.aaa.com.
Related Articles