Mark Madeja
Senior Specialist, Public & Government Affairs
O: (918) 748-1074
C: (918) 935-9318
Mark.madeja@aaaok.org


AAA Forecasts "Fall"-ing Gas Prices:
Quarter a Gallon Cheaper than This Summer
Tips to Save on Gas
August 29, 2018 – AAA forecasts that the national gas price average will drop to $2.70 this fall and may go even lower. That is 14-cents less a gallon compared to today's price and more than a quarter cheaper than this year's  high of $2.97 in May.
In Oklahoma, where gas prices consistently rank among the lowest in the nation, that drop will more than offset the three-cent gas tax increase that began July 1. Year-to-date, drivers have paid an average of $2.49 in the state, an increase of 39 cents-a-gallon from 2017.
"Cheaper-to-produce gasoline and relatively stable crude oil prices in August, combined with an anticipated drop in consumer gasoline demand post-Labor Day, means consumers will see savings when they fill-up at the pump this fall," said Leslie Gamble, AAA Oklahoma spokesperson. "However, several outliers could reverse this forecast, including crude oil prices, geopolitical tensions and the mere threat of a hurricane."
2018 gas prices have been significantly more expensive than 2017. In fact, the year-to-date-national gas price average ($2.71) is 41-cents higher than in 2017. The top 10 states with the largest year-over-year difference in gas price averages are mostly on the West Coast and in the Northeast and Mid-Atlantic.
What will drive pump prices down this fall?
Part of the anticipated drop in fall pump prices is due to the switchover to winter-blend gasoline in mid-September. The difference between summer- and winter-blend gasolines involves the Reid Vapor Pressure (RVP) of the fuel. RVP is a measure of how easily the fuel evaporates at a given temperature. The more volatile a gasoline (higher RVP), the easier it evaporates. Winter-blend fuel, which is cheaper to produce, has a higher RVP because the fuel must be able to evaporate at low temperatures for the engine to operate properly, especially when the engine is cold.
In addition, the arrival of fall historically means a drop in consumer gasoline demand as summer road trips and vacations subside.
What could prevent cheaper gas prices from coming to a pump near you?
Crude Market Volatility: Much of 2018 has brought volatility to the domestic and global crude markets, as market watchers try to glean insight into forces that will shape global supply this fall. These forces include:

Venezuela is a major crude producer for the Western Hemisphere, but its collapsing economy could halt its crude production.

Organization of Petroleum Exporting Countries (OPEC) announced an increase in production over the summer, but slower-than-expected production growth could contribute to higher crude prices during the second half of the year.

Geopolitical uncertainty in the Middle East and around the globe could disrupt vital crude flows. 

Iran Sanctions: When President Trump announced that the U.S. would withdraw from the Iran Nuclear Deal in May, the decision sent the crude markets into upheaval. In August, the first round of re-imposed sanctions on the country, which target Iran's financial sector, went into effect and led to a brief uptick in crude prices. The next round of sanctions, currently scheduled to take effect in November, will target Iran's energy sector – including its crude exports – and will likely have a more sustained impact on crude prices. If and when those sanctions take effect, crude prices will likely surge over an expected reduction in Iranian crude exports and increased tension in the region that could destabilize global crude flows.

Updated Hurricane Forecast: The National Oceanic and Atmospheric Administration's Climate Prediction Center predicts a total of nine to 13 named storms.An average six-month hurricane season produces 12 named storms, of which six becomes hurricanes, including three major hurricanes. The mere threat of a hurricane in the U.S. would cause pump prices to spike, likely regionally, due to constrained supply and delivery challenges.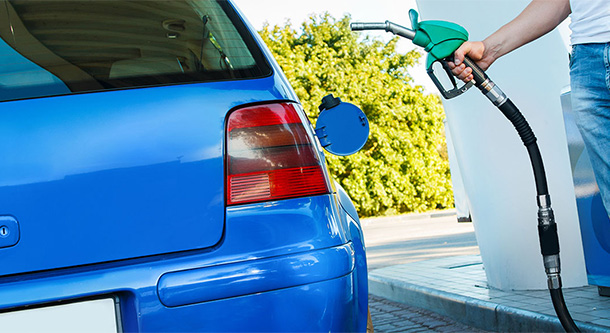 AAA 2018 Gas Watcher's Guide
In time for Labor Day travel, AAA's 2018 Gas Watcher's Guide  has tips for conserving fuel, saving money and maintaining fuel efficiency. The Guide offers these tips – and many more - for motorists to keep in mind as they fill-up at the pump:
If your vehicle's engine does not require premium or mid-grade fuel, don't buy it.  Using anything other than regular grade is simply a waste of money.

Don't top off your gas tank. Stop filling after the automatic nozzle shuts off the second time.

If you have to replace a gas cap, make sure it is the right one for your car. An ill-fitting cap will increase emissions and trigger the "check engine" light.

Keep track of gas mileage. If you notice a sudden decrease in fuel economy, have your vehicle checked by a technician to ensure it is operating properly.
Motorists can find current gas prices at GasPrices.AAA.com and along their route with the free AAA Mobile app for iPhone, iPad and Android. The app can also be used to map a route, find discounts, book a hotel and access AAA roadside assistance. Learn more at AAA.com/mobile.
Related Articles