AAA Contact
Manager, Public and Government Affairs
(609) 570-4131Office
(609) 306-2523Cell
Twitter:@AAANJNews
AAA News Releases:www.AAA.com/AAANews
AAA: When Hops and Hoops Collide, How are You Getting Home?
March 14, 2019 - With St. Patrick's Day falling on the same day as the NCAA basketball tournament's "Selection Sunday", no one will have trouble finding a reason to party this weekend. AAA is warning party-goers and sports fans to have a game plan for getting home if drinking alcohol is involved.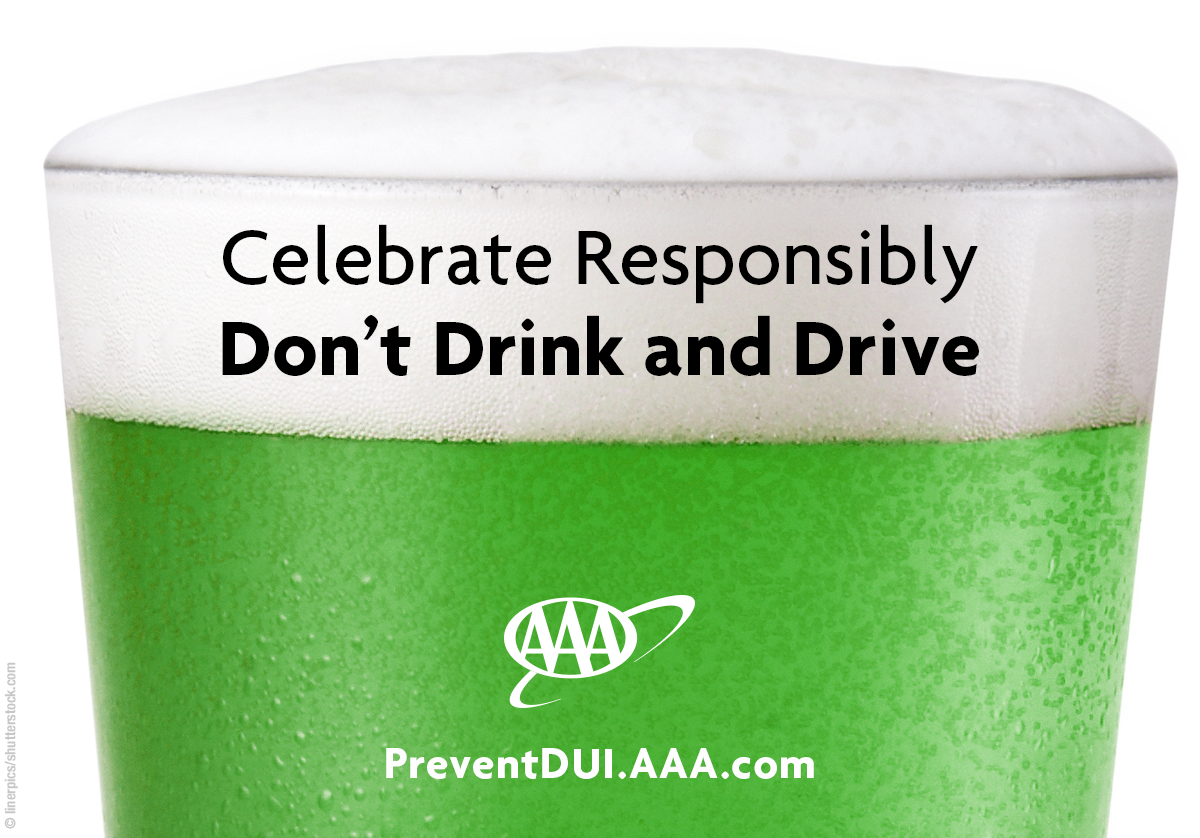 Since both days typically align with drinking, it could be an especially dangerous weekend on the road. "Anyone who plans to drink this weekend should also plan for a designated driver, ride share like Lyft or Uber or some other safe option that will keep you, your friends and everyone else from undue risk," said Tracy Noble, spokesperson for AAA Mid-Atlantic. "The luck of the Irish isn't enough to get you home safe."
The St. Patrick's Day holiday period is one of the deadliest holidays due to the number of drunk drivers on the road. According to the National Highway Traffic Safety Administration (NHTSA), the holiday period from 2013 to 2017 saw the loss of 234 lives due to drunk-driving crashes. 
In 2017 alone, 59 people, 37% of all crash fatalities, were killed in drunk-driving crashes over the St. Patrick's Day holiday period. Between midnight and 5:59 a.m. March 18, 2017, three-fourths (75%) of crash fatalities nationwide involved a drunk driver.
Drinking also puts pedestrians at risk. "Walking near or on streets while intoxicated can also be deadly," Noble warns. "Without realizing it, your senses are dulled, decision-making isn't sharp and decreased coordination can put you at risk of getting hit by a vehicle. Keep an eye out for cars, cross at intersections, and obey walk signals."
To prevent senseless tragedies from occurring, AAA Mid-Atlantic offers the following steps to have a safe and happy St. Patrick's Day celebration:
If you're venturing out to a pub or attending a St. Patrick's Day party, plan ahead:
Before heading out the door to a house party or favorite pub, decide whether you'll drink or you'll drive – you can't do both.

If you will drink, designate a sober, reliable driver to get you home safely or plan to call a taxi, Uber, Lyft or a sober friend or family member, or use public transportation.

If you plan on driving, commit to staying sober.

If you see a driver on the road that you suspect is impaired, pull over to a safe spot and call 911, giving police a description of the vehicle.

And remember, if you see people who are about to drive while impaired, take their keys and help them make other arrangements to get to where they are going safely.
If you're hosting a party where alcohol is being served, be a responsible host:
Have food and non-alcoholic beverages available.

Remember that it takes 40 minutes or longer for alcohol from a drink to be absorbed.

Take note of who's coming, who drinks, and who drives.

Make sure all of your guests designate their sober drivers in advance, or help arrange ride-sharing with other sober drivers.

Stop serving alcohol at least an hour before your guests start to leave for home.
---
AAA provides automotive, travel, and insurance services to 58 million members nationwide and nearly two million members in New Jersey.AAA advocates for the safety and mobility of its members and has been committed to outstanding road service for more than 100 years. AAA is a non-stock, non-profit corporation working on behalf of motorists, who can now map a route, find local gas prices, discover discounts, book a hotel, and track their roadside assistance service with the AAA Mobile app (AAA.com/mobile) for iPhone, iPad and Android. For more information, visit www.AAA.com.
AAA Mid-Atlantic News is on Facebook - please Like us!
Follow us on Twitter@AAANJNEWS
Related Articles