AAA Contact
Manager, Public and Government Affairs
(609) 570-4131Office
(609) 306-2523Cell
Twitter:@AAANJNews
AAA News Releases:www.AAA.com/AAANews
Over One Million New Jersey Residents Will Kick Off Summer with a Memorial Day Getaway According to AAA
*Highest Number of Travelers since 2005*
Hamilton, N.J., May 21, 2019 – The unofficial start of summer is here and with it, plenty of travel plans for Memorial Day. According to AAA's first travel forecast of the summer season, more than more than one million New Jersey residents will travel this Memorial Day Weekend, almost 4 percent more than last year and the highest number of travelers since 2005.  Nationally, approximately 43 million Americans will travel for the holiday up 3.6 percent year over year.  The Memorial Day holiday travel period is defined as Thursday, May 23 to Monday, May 27. 
"The unofficial start of the summer season is here and New Jerseyans are ready to kick off the Memorial Day weekend with a trip," said Tracy E. Noble, Manager of Public and Government Affairs for AAA Mid-Atlantic. "After a long winter and soggy spring, locals are ready to pack up the car to enjoy a getaway to enjoy sun, sand and the start the summer travel season."
Impact of gasoline prices on travel plans
The 90 percent of New Jersey residents who will travel by car will not be deterred by the recent increase in prices at the pump and will see prices about 10-12 cents below last year's average. 
"Despite prices hovering above $2.90 per gallon in recent weeks, a recent dip in gas prices is welcome news for motorists as Memorial Day holiday weekend road trips are expected to increase for the fifth straight year," said Noble.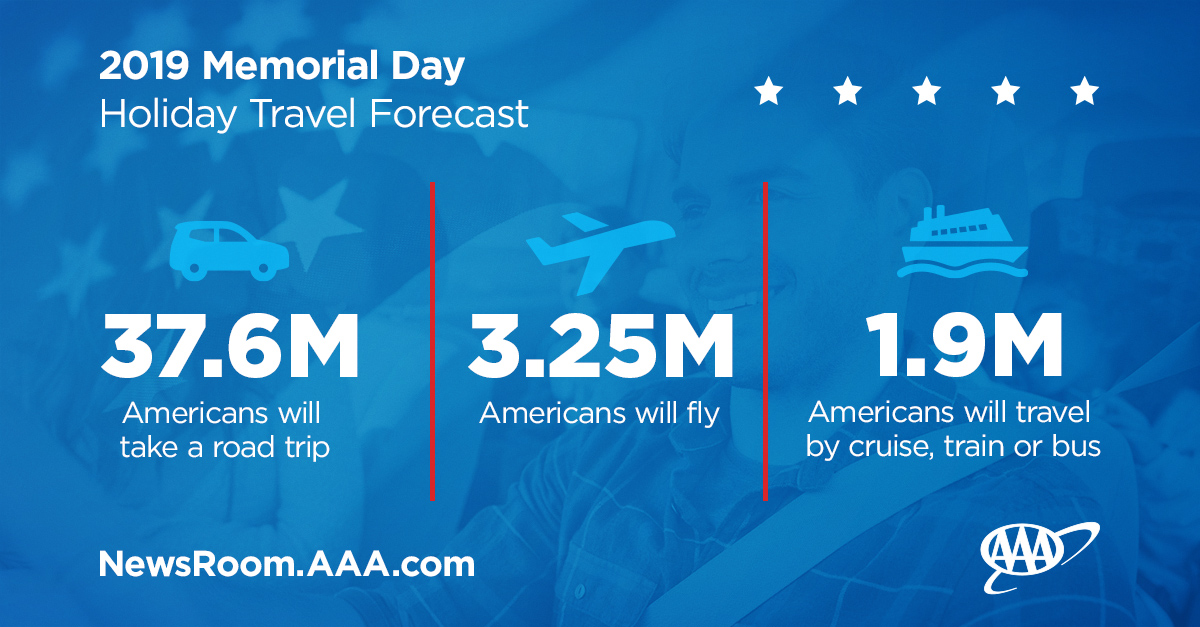 NJ gas prices for Memorial Day for the past five years:
2014 $3.50

2015 $2.54

2016 $2.15

2017 $2.40

2018 $3.02
Travel Breakdown:
Automobile
New Jersey—

942,395 (90% of all travelers), up 3.8% compared to the 907,473 who drove in 2018.

Nationally—

37.6 million (88% of all travelers), a 3.5% increase from the 36 million who drove last year.
Air
New Jersey—

72,880(7% of all travelers), up 5% from 69,422 last year.

Nationally—

3.2 million (7.6% of all travelers), an increase of 4.8% from Memorial Day Weekend 2018.
Train, Bus, Watercraft or Multi-Modal Travel
New Jersey—

28,942 (2.8% of all travelers), unchanged from 2018.

Nationally—

About 1.9 million (4.4% of all travelers), an increase of 3.8% from the 2018 holiday weekend.
Drivers Beware: Worst Times to Hit the Road
For the 37.6 million Americans traveling by automobile, INRIX, in collaboration with AAA, predicts drivers will experience the greatest amount of congestion on Thursday, May 23 and Friday, May 24 in the late afternoon as commuters leave work early and mix with holiday travelers. Several major U.S. metros could experience double the travel times compared to a normal trip, while New Yorkers and Washington, D.C., could see three times the delay.
Travelers to see relief in lower hotel and car rental costs
While road trippers are paying more to fill up their vehicles at the gas pump, some of that additional expense can be made up with lower prices on car rentals and hotels this Memorial Day. According to AAA's Leisure Travel Index, car rental prices have declined 7% compared with last year, with an average daily rate of $55. Mid-range hotels are between 2% and 3% cheaper this year, with an average nightly rate of $146 and $183, respectively, for AAA Two and Three Diamond Rated properties. Meanwhile, airfares are holding steady compared with last Memorial Day, for an average roundtrip price of $171.
Download the AAA Mobile app before a Memorial Day getaway
Before setting out for Memorial Day, download the free AAA Mobile app for iPhone, iPad and Android. Travelers can use the app to map a route, find lowest gas prices, access exclusive member discounts, make travel arrangements, request AAA roadside assistance, find AAA Approved Auto Repair facilities and more. Learn more at AAA.com/mobile.
About the travel forecast:
AAA's projections are based on economic forecasting and research by IHS Markit, a London-based business information provider. For the purposes of this forecast, the Memorial Day holiday travel period is defined as the five-day period from Thursday, May 23 to Monday, May 27. In cooperation with AAA, IHS Markit developed a unique methodology to forecast actual domestic travel volumes, using macroeconomic drivers such as employment; output; household net worth; asset prices including stock indices; interest rates; housing market indicators and variables related to travel and tourism, including prices of gasoline, airline travel and hotel stays. The complete AAA/IHS Markit 2019 Memorial Day holiday travel forecast is available here.

---
---
AAA provides automotive, travel, and insurance services to 58 million members nationwide and nearly two million members in New Jersey.AAA advocates for the safety and mobility of its members and has been committed to outstanding road service for more than 100 years. AAA is a non-stock, non-profit corporation working on behalf of motorists, who can now map a route, find local gas prices, discover discounts, book a hotel, and track their roadside assistance service with the AAA Mobile app (AAA.com/mobile) for iPhone, iPad and Android. For more information, visit www.AAA.com.
AAA Mid-Atlantic News is on Facebook - please Like us!
Follow us on Twitter@AAANJNEWS
Related Articles