AAA Contact
Manager, Public and Government Affairs
(609) 570-4131Office
(609) 306-2523Cell
Twitter:@AAANJNews
AAA News Releases:www.AAA.com/AAANews
AAA Mid-Atlantic: Water, Water, Everywhere
AAA offers safe driving and insurance tips as region sustains storm damage and flooding.
Hamilton, NJ, June 20, 2019-  Most of New Jersey is waterlogged following days of clouds and heavy rain. Most areas have been under flood watches and warnings throughout this week, a trend likely to continue today due to a forecast for more rain and thunderstorms.  AAA reminds residents that even if you don't live in an area that typically floods, develop alternative evacuation routes that allow you to leave your home safely to find higher ground.
AAA Driving and Insurance Tips
AAA Driving Tips:
·     Sign up for emergency alerts – alerts are often provided by agencies like the National Weather Service and can help notify you when there is a risk of flooding.
·     Turn Around, Don't Drown! As little as six inches of water can cause you to lose control of your car and potentially stall your engine.  Do not attempt to drive through flooded roads. Turn around; find another way to get to your destination.  Pull over to a safe location if needed.
·     Seek higher ground - If your vehicle stalls or is suddenly caught in rising water, leave it immediately.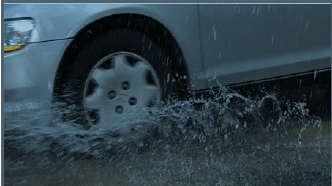 ·     Never drive through standing water - Standing water can be deceiving and motorists should avoid it. No matter how shallow it may appear, water may be concealing downed power lines, be deeper than it appears, or have significant force from flooding, etc.
·     Standing water may also be hiding potholes – Another good reason not to drive through it!
·     Watch for hydroplaning - No car is immune from hydroplaning on wet surfaces, including four-wheel drive vehicles. Even if brakes work under normal conditions that doesn't mean they will react the same on slippery roads where tires roll with less traction. Also, turn off cruise control as it can cause hydroplaning.
·     Take the nearest exit - If conditions worsen to the point where there is any doubt about your safety, take the nearest exit. Don't just stop on the shoulder or under a bridge. If your visibility is compromised, other drivers may be struggling too.
AAA Tips on Auto Insurance Coverage:
Physical damage to a car caused by heavy wind, flooding, or fallen tree limbs is covered under the optional comprehensive portion of an auto policy.

Car owners should contact their insurance company to determine the extent of coverage before seeking repairs.
AAA Tips on Auto Insurance Claims:
Take photographs of any visible damage.

Any vehicle sustaining flood damage should be fully inspected before being allowed back on the road. Mechanical components, computer systems, engine, transmission, axles, brake system and fuel system impacted by water contamination may render the vehicle unfit to drive and in many cases vehicles sustaining significant water damage will be determined to be a total loss. 
AAA Tips on Home Insurance Coverage
Wind-driven rain that causes an opening in the roof or wall and enters through this opening is covered under standard homeowner's insurance policies. Water that seeps into a home from the ground up is considered flooding and would be covered by flood insurance, which is provided by the

National Flood Insurance Program

and a few private insurers. Flood insurance is available to both homeowners and renters. Flood damage is not covered by standard homeowners or renters insurance policies.

Homeowners policies also include additional living expenses—in the event a home is severely damaged by an insured disaster, this would pay for reasonable expenses incurred by living elsewhere while the home is being fixed or rebuilt.
AAA Tips on Homeowners Insurance Claims:
·    The first step to recovery is inspecting your home for damage and then notifying your insurance company as soon as possible.
·     Prepare an inventory and take photographs of damaged property.
·     Store undamaged property in a protected place if possible.
·      If carpet is soaked, remove the carpet and the carpet pad.  Keep a two-foot square piece for the claims adjuster.
·     Look for hazards such as broken or leaking gas lines, flooded electrical circuits, submerged furnaces or electrical appliances and damaged sewage systems.
·     Proceed with extreme caution as you inspect your basement. There may be hazards from electrical lines and heating units.  If your basement has flooded, do not pump it out all at once.  Remove about one-third of the water per day.  The wet ground surrounding your basement may cause the floors to buckle and the walls to collapse.
·     Remove contaminated materials from the home. Be aware of exposure to mold.
·     Carpeting, mattresses and upholstered furniture should be disposed of or cleaned and disinfected by a professional cleaner.
·     Cover broken windows and other holes to prevent further damage.
·      Test drywall for moisture softness. If soft, cut holes at base to help dry out.
·       If possible run AC, dehumidifier and fans constantly.
·       If power is out, disconnect all computers and appliances from electrical sources.
·       Open cabinet doors and elevate furniture allowing air to circulate.
·       Save wet books or photo albums by putting them on edge in a frost free freezer.
·       Be present when the adjuster inspects your damage.
Among the services being provided by AAA Mid-Atlantic:AAA Insurance customers who have suffered damage to their homes or autos can begin filing claims immediately. Claims representatives are ready to assist 24 hours a day. The number is (888) 222-0086. If not insured through AAA Insurance please contact your insurance provider.
---
AAA provides automotive, travel, and insurance services to 58 million members nationwide and nearly two million members in New Jersey.AAA advocates for the safety and mobility of its members and has been committed to outstanding road service for more than 100 years. AAA is a non-stock, non-profit corporation working on behalf of motorists, who can now map a route, find local gas prices, discover discounts, book a hotel, and track their roadside assistance service with the AAA Mobile app (AAA.com/mobile) for iPhone, iPad and Android. For more information, visit www.AAA.com.
AAA Mid-Atlantic News is on Facebook - please Like us!
Follow us on Twitter@AAANJNEWS
Related Articles