AAA Contact
Manager, Public and Government Affairs
(609) 570-4131Office
(609) 306-2523Cell
Twitter:@AAANJNews
AAA News Releases:www.AAA.com/AAANews
AAA Urges Drivers to Prepare Today; Use Caution on the Roads
Hamilton, NJ, March 3, 2019 – As March comes roaring in like a winter lion, bringing with it yet another winter storm, AAA urges drivers to prepare.  The weather system is expected to begin Sunday afternoon and continue into Monday morning with the potential to impact Monday's morning commute, creating hazardous driving conditions. Motorists should takes steps to prepare ahead of the storm by filling up the gas tank and packing a vehicle emergency kit.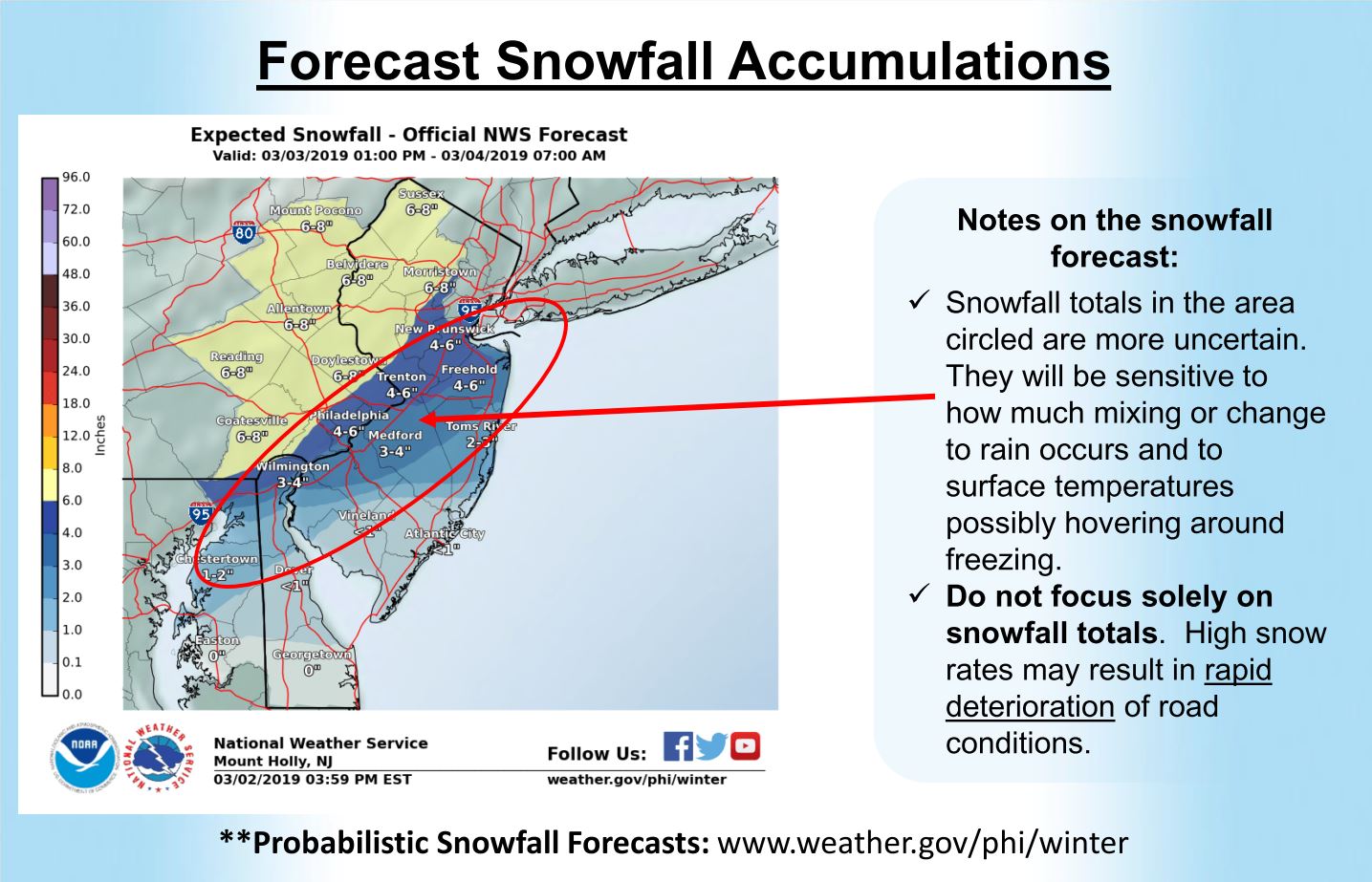 Governor Phil Murhphy declared that New Jersey will enter a state of emergeny begining Sunday at 3:00 p.m. ahead of the expected winter storm.  
"AAA urges motorists to use the calm before the storm today to prepare their vehicles by filling up their gas tanks and packing a vehicle emergency kit," said Tracy Noble,  Public and Government Affairs Manager for AAA Mid-Atlantic.  "No one ever plans to get stuck.  Preparation can make all the difference."
AAA's Roadside Rescue Team is ready to respond to drivers who breakdown and find themselves stranded during the storm. 
Winter Vehicle Emergency Kit
Motorists are advised to pack a winter emergency kit now to stow in the trunk of their vehicle to have immediately available should the need arise. More than 40 percent of motorists do not carry an emergency kit in their vehicle, cautions AAA.
Emergency kit items to include –

deicer, shovel, ice scraper, sand or kitty litter (for traction) .

Pack a blanket, extra gloves and hat, heavy coat –

if you're stuck on the road for an extended period of time you'll need to stay warm, especially if your vehicle is not running.

Pack snacks, beverages, etc. –

have them packed by the door to take in the morning (so they don't freeze in the car overnight)

Charge your cell phone –

have a backup power source for the car in case you're stuck for a while.

Check windshield wipers and lights (headlights, taillights, turn signals) to ensure they are working properly –

make sure you can see and can be seen.

Keep at least a half tank of gas.
Winter Weather Driving         
Driving in snow creates additional challenges for motorists.  If you have to be out on the roads, remember to increase your following distance, drive with caution and give road crews plenty of room to do their job safely.
"AAA urges motorists to use caution if driving in snow and ice," Noble added.  "The key to arriving safely is to clean off your vehicle, slow down and leave plenty of extra room between you and the cars around you."
AAA advises motorists to be cautious when driving in winter conditions and offers the following safety tips:
Remove all snow from vehicle, including roof, hood, and trunk.

While driving, snow can blow off a car onto the windshield of a nearby vehicle, temporary blinding that driver's vision.

Slow down.

Adjust your speed to the road conditions and leave yourself ample room to stop. Allow at least three times more space than usual between you and the car in front of you. Accelerate, turn and brake gradually.

Do not tailgate.

Normal following distances of three to four seconds on dry pavement should be a minimum of five to six seconds when driving on slippery surfaces. The extra time will provide additional braking room should a sudden stop become necessary.

Never use cruise control on slippery roads

. Using Cruise control can diminish response time and should never be used when driving in snowy or rainy conditions

.

Avoid unnecessary lane changes.

This increases the chances of hitting a patch of ice between lanes that could cause loss of vehicle traction.

Minimize the need to brake on ice.

If you're approaching a stop sign, traffic light or other area where ice often forms, brake early on clear pavement to reduce speed. Vehicle control is much more difficult when braking on ice-covered roadways.
Drivers should check to make sure their membership is active or consider joining AAA – it is important and as simple as going to www.AAA.com.
---
AAA provides automotive, travel, and insurance services to 58 million members nationwide and nearly two million members in New Jersey.AAA advocates for the safety and mobility of its members and has been committed to outstanding road service for more than 100 years. AAA is a non-stock, non-profit corporation working on behalf of motorists, who can now map a route, find local gas prices, discover discounts, book a hotel, and track their roadside assistance service with the AAA Mobile app (AAA.com/mobile) for iPhone, iPad and Android. For more information, visit www.AAA.com.
AAA Mid-Atlantic News is on Facebook - please Like us!
Follow us on Twitter@AAANJNEWS
Related Articles