Mark Madeja
Senior Specialist, Public & Government Affairs
O: (918) 748-1074
C: (918) 935-9318
Mark.madeja@aaaok.org

June 10, 2019 - Nearly every state's gas price average is cheaper than a week ago, a month ago and a year ago, according to AAA. Today's national average is $2.74, which is seven-cents cheaper than last week, 13-cents less than a month ago and 18-cents cheaper than a year ago.
Oklahomans are enjoying average prices of $2.46 a gallon, a drop of nine-cents since last week. "Drivers here are paying the eighth lowest prices in the nation for gas," said Leslie Gamble, AAA Oklahoma spokesperson, "at a time when many are planning summer road trips." Motorists can find current gas prices along their route with the free AAA Mobile app for iPhone, iPad and Android.
"Refinery utilization in the United States is at its highest level since early January, resulting in overall gasoline stocks at healthy levels to meet robust summer demand. Prices are dropping due to cheaper crude oil and at the same time U.S. supply is keeping pace with demand," said Gamble. "The national average is poised to fall to at least $2.70 this week – an indication that pump prices may be even cheaper this summer."
For the last three weeks demand has remained relatively robust at 9.4 million b/d. Meanwhile, gasoline stocks have increased weekly with total inventories at nearly 4 million bbl ahead of the five-year average, according to Energy Information Administration (EIA) data.
Quick Stats
The nation's

top 10 largest weekly decreases

are: Ohio (-21 cents), Indiana (-17 cents), Michigan (-15 cents), Illinois (-11 cents), Kentucky (-10 cents), Oklahoma (-9 cents), Maine (-8 cents), Wisconsin (-8 cents), Nebraska (-8 cents) and South Carolina (-7 cents).
The nation's

top 10 least expensive markets

are: Mississippi ($2.32), Louisiana ($2.35), Alabama ($2.35), South Carolina ($2.36), Arkansas ($2.40), Texas ($2.41), Tennessee ($2.42), Oklahoma ($2.46), Missouri ($2.48) and Virginia ($2.49).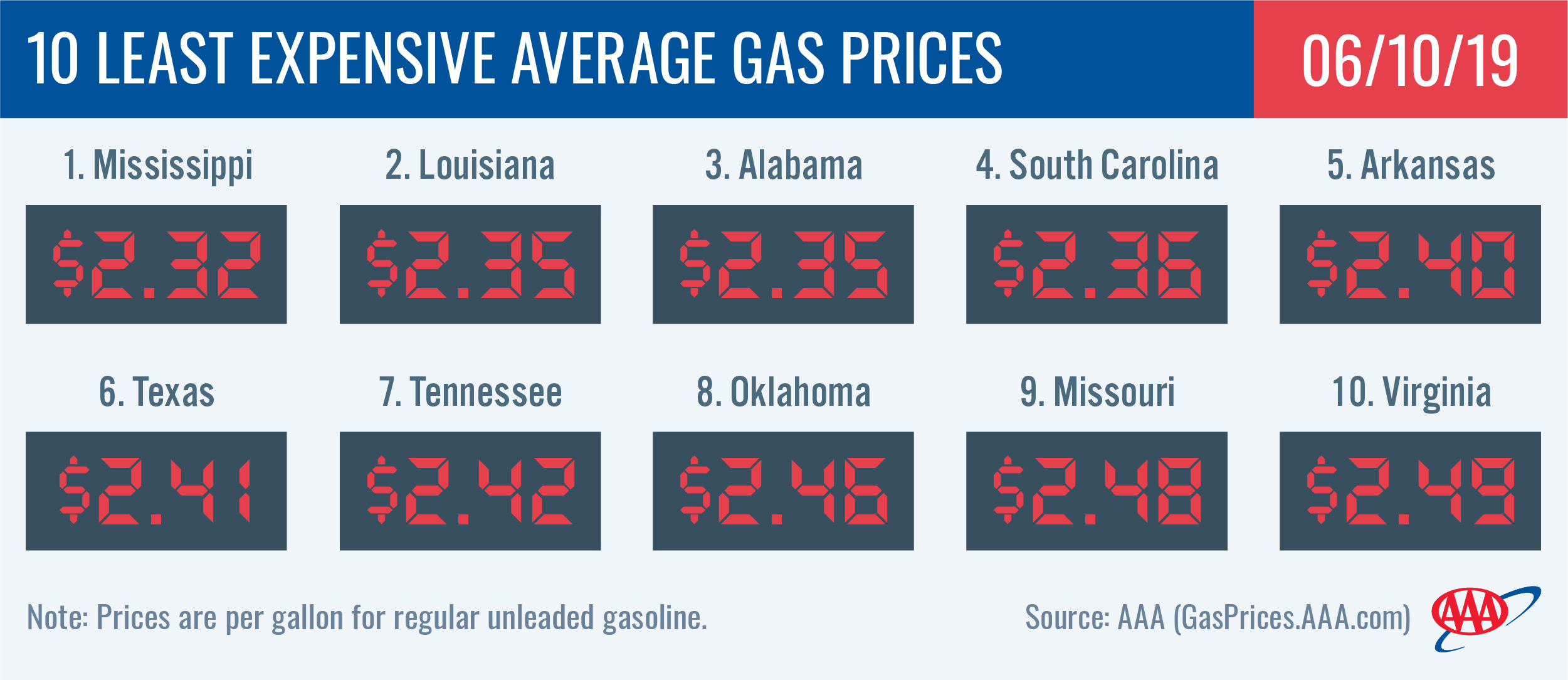 South and Southeast
Florida (+2 cents) was the only state in the region and country to see gas prices increase on the week. Meanwhile, seven South and Southeast states saw pump prices drop  a nickel or more since last Monday: Oklahoma (-9 cents), South Carolina (-7 cents), Texas (-7 cents), Mississippi (-7 cents), Arkansas (-6 cents), Georgia (-6 cents) and New Mexico (-5 cents).
As the region continues to carry among the cheapest gas price averages in the country, every state's average is cheaper by at least a dime compared to last month. The region also touts some of the largest monthly decreases in the country. Georgia (-18 cents), Texas (-17 cents), Louisiana (-15 cents), (Florida (-15 cents) and South Carolina (-15 cents) rank among the top 10 states with the biggest change in pump prices compared to last month.
As refinery utilization held steady on the week, regional stocks drew by 1.8 million bbl and dropped total stocks to 82.8 million bbl. While the draw was large, inventories sit ahead of this time last year and are the largest level for this time of year (early June) on record for the region, per EIA data. Motorists in the region can expect to see even cheaper gas prices throughout the summer.
Oil market dynamics
At the close of Friday's formal trading session on the NYMEX, WTI increased by $1.40 to settle at $53.99. Crude prices increased on Friday after Saudi Arabia's Energy Minister Khalid al-Falih told an audience at a conference in Russia that OPEC and its partners are close to an agreement to extend their current 1.2-million b/d production reduction pact through the end of 2019. The cartel is expected to formally announce its decision at its upcoming meeting in Vienna on June 25 and 26.
The price increase followed a week of losses for crude due to EIA's weekly petroleum status report showing that total domestic crude inventories rose by 6.8 million bbl last week. At 483.3 million bbl, the current level is 46.7 million bbl higher than last year's level at this time. An oversupply of crude has increased concerns that the market has a glut of oil – even as U.S.-imposed sanctions on Iran and Venezuela have worked to reduce global supply. Market observers will await OPEC's meeting to determine how much global crude supplies may tighten further. If the glut persists, crude prices will likely continue to descend.
In related news, Baker Hughes, Inc. reported that the U.S. lost 11 oil rigs last week, bringing the total of active rigs to 789. There are 73 fewer oil rigs now than at this time last year.
Related Articles