Mark Madeja
Senior Specialist, Public & Government Affairs
O: (918) 748-1074
C: (918) 935-9318
Mark.madeja@aaaok.org

OKLAHOMA'S RURAL ROADS & BRIDGES HAVE SIGNIFICANT DEFICIENCIES & HIGH FATALITY RATES; REPAIRS & MODERNIZATION NEEDED TO IMPROVE CONDITIONS, BOOST SAFETY & SUPPORT GROWTH & CONNECTIVITY
Eds: This report contains data for all 50 states for the percentage of rural roads in poor condition, the percent of deficient rural bridges, rural traffic fatality rates and the number of rural traffic fatalities. Click here for infographics.
Washington, D.C. – America's rural transportation system is in need of repairs and modernization to support economic growth in the nation's Heartland, which is a critical source of energy, food and fiber. With increases in population and growing employment, rural America is heavily reliant on the quality of its transportation system to sustain further growth. This is according to a new report released today by TRIP, a national transportation research nonprofit. The report, Rural Connections: Challenges and Opportunities in America's Heartland, evaluates the safety and condition of the nation's rural roads and bridges and finds that the nation's rural transportation system is in need of immediate improvements to address deficient roads and bridges, high crash rates, and inadequate connectivity and capacity. The chart below shows the states with the highest rate of rural pavements in poor condition, states with the highest share of rural bridges that are rated poor/structurally deficient, and states with the highest fatality rates on non-Interstate, rural roads.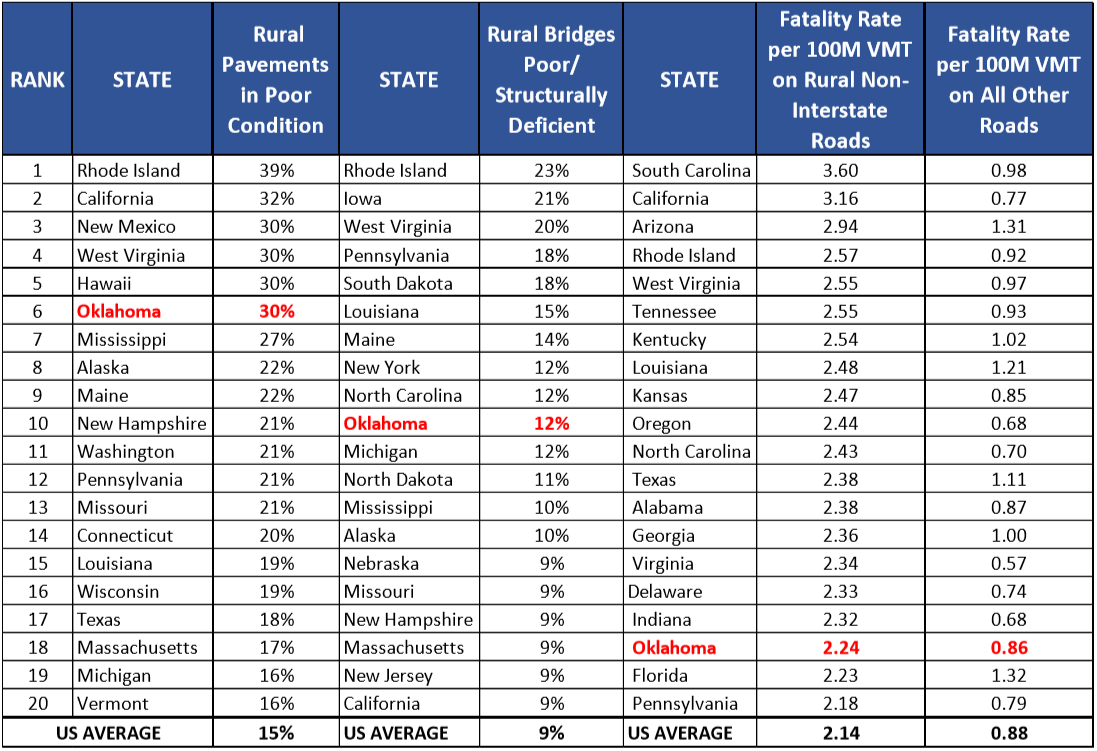 The report finds that 30 percent of Oklahoma's rural roads are rated in poor condition – the sixth highest rate in the nation - and 22 percent are rated in mediocre condition. Twelve percent of Oklahoma's rural bridges are rated as poor/structurally deficient, the 10th highest share in the U.S. Bridges that are poor/structurally deficient have significant deterioration to the major components of the bridge and are often posted for lower weight or closed to traffic, restricting or redirecting large vehicles, including agricultural equipment, commercial trucks, school buses and emergency services vehicles.  The rate of traffic fatalities on Oklahoma's non-Interstate, rural roads is the eighteenth highest in the nation and is more than two and a half times higher than the fatality rate on all other roads in the state – 2.24 fatalities per 100 million vehicle miles of travel vs. 0.86.
"Every county road does not need to be designed to State Highway standards, but as a state we rely on tax revenues that are derived and dependent on the adequacy of the rural infrastructure," said Randy Robinson, executive director of the Oklahoma Cooperative Circuit Engineering Districts Board (OCCEDB). "This state has 77 counties that all Oklahoma taxpayers have made an  investment in a safe, efficient transportation system of roads and bridges."
"Unfortunately, Oklahoma finds itself on this 'Top 10' list with rankings that threaten our safety and wallets," said Leslie Gamble, AAA Oklahoma public and government affairs manager. "Hard-working Oklahomans in rural areas rely every day on their roads and bridges. When these systems deteriorate — as they have for years— it not only frustrates them, but it imposes a real cost on them in terms of safety, time and vehicle maintenance."
Gamble noted that rural roads and bridges lead to many of the state's best natural attractions, such as lakes, that will be popular destinations during the busy Memorial Day holiday weekend and throughout the summer. "Our oil and gas, farming and ranching and other industries prominent in rural areas deserve a transportation system capable of serving the travel needs of the people who live and work there. The movement of goods and services is fundamental to the development and prosperity of communities. AAA supports adequate infrastructure funding, for both mobility and safety. Revenues generated from taxes, fees and other pricing mechanisms paid by motorists must be dedicated solely to meeting identified transportation needs and protected from diversion to other uses."
America's rural transportation system provides the first and last link in the supply chain from farm to market, connects manufacturers to their customers, supports the tourism industry, and enables the production of energy, food and fiber. Rural Americans are more reliant on the quality of their transportation system than their urban counterparts.
"This report highlights again the critical need for federal action to modernize our nation's infrastructure," said Ed Mortimer, vice president of transportation infrastructure of the U.S. Chamber of Commerce.  "We have a historic opportunity to address many rural infrastructure needs with President Trump and Congress discussing a major infrastructure bill. Let's hope they act to address this critical issue!"
The TRIP report finds that the U.S. needs to implement transportation improvements that will improve rural transportation connectivity, safety and conditions to provide the nation's small communities and rural areas with safe and efficient access to support quality of life and enhance economic productivity. 
    "Farmers and ranchers depend on rural roads, highways and bridges for daily life and to move   their products to market," said Zippy Duvall, president of the American Farm Bureau Federation. "Securing the appropriate resources at the local, state and federal levels will allow for the improvements needed to provide a rural transportation system that will keep goods moving, American agriculture competitive and rural Americans safe."
"The health of the nation's economy and the safety and quality of life in America's small communities and rural areas ride on our rural transportation system. Our rural roads and bridges provide crucial links from farm to market, move manufactured and energy products, and provide access to countless tourism, social and recreational destinations," said Will Wilkins, executive director of TRIP.  "Fixing the federal Highway Trust Fund with a long-term, sustainable source of revenue that supports the transportation investment needed will be crucial to the modernization of our rural transportation system."                                       
Related Articles