Gas Prices Trending Cheaper
Richmond, Virginia (Monday, September 30, 2019) - Two weeks after attacks on major Saudi Arabian oil facilities, the majority of Americans are starting to see signs of gas prices trending cheaper. While the national average may have only decreased by a penny on the week, 10 states saw pump prices decline by a nickel or more.
"Crude oil prices have dropped close to where they were right before the drone attacks on the Saudi oil facilities," said Tammy Arnette, Senior Public Affairs Specialist for AAA. "This is helping to push gas prices cheaper in most of the country. Virginia motorists are not only seeing declining gas prices, but also some of the cheapest gas prices nationwide as the Commonwealth is 7th lowest in the country to buy gasoline."
On the week, all West Coast region states saw prices increase with California (+28 cents) seeing the largest spike, which drives the state average to $4.02 and is likely to push more expensive this week.
Today's national gas price average of $2.65 which is the same price as last week, and is seven cents more expensive than last month, but 22-cents cheaper than a year ago.
GAS PRICES FROM AAA
Average price per gallon of self-serve, regular gasoline. 
Gas prices provided by AAA, https://gasprices.aaa.com/
 

 

Today

Weekly Change

Up/Down

Last Month

Last Year

National

$2.65

Down 1 cent

$2.58

$2.87

Virginia

$2.35

Down 2 cents

$2.32

$2.61

Charlottesville

$2.34

Down 1 cent

$2.34

$2.61

Fredericksburg

$2.27

Down 4 cents

$2.18

$2.52

Harrisonburg

$2.38

Up 6 cents

$2.26

$2.65

Norfolk Area

$2.29

Down 4 cents

$2.30

$2.59

Richmond

$2.28

Down 3 cents

$2.25

$2.58

Roanoke

$2.37

Down 2 cents

$2.32

$2.58
Quick Stats
The nation's top 10 largest weekly changes are: California (+28 cents), Ohio (-15 cents), Nevada (+13 cents), Michigan (-12 cents), Kentucky (-11 cents), Illinois (-10 cents), Delaware (-9 cents), Indiana (-7 cents), Iowa (-7 cents) and Minnesota (-6 cents).
The nation's top 10 least expensive markets are: Louisiana ($2.30), Mississippi ($2.30), South Carolina ($2.32), Arkansas ($2.32), Alabama ($2.33), Texas ($2.35), Virginia ($2.35), Oklahoma ($2.35), Missouri ($2.36) and Tennessee ($2.37).   
Mid-Atlantic and Northeast
All states in the region saw pump prices push cheaper on the week with Delaware (-8 cents) seeing the largest decline. However, the majority of the Mid-Atlantic and Northeast states saw small declines of just a penny or two. State gas price averages range from $2.35 - $2.77 in the region.
While all gas price averages in the region are cheaper year-over-year, that is not the case for month-over-month pump price differences. Most state averages are cheaper compared to last month, however, many are  paying more: Delaware (+9 cents), Maryland (+7 cents), North Carolina (+5 cents), Pennsylvania (+4 cents), Virginia (+3 cents) and West Virginia (+2 cents).
Gasoline stocks increased by 2 million bbl, pushing levels to 64.3 million in EIA's latest report. Meanwhile regional refinery utilization saw a 1% increase to 68%. The stabilization in refinery utilization alongside the large increase in stocks likely means most states in the region will see gas prices hold steady or decrease in the week ahead.
Oil market dynamics
At the close of Friday's formal trading session on the NYMEX, WTI decreased by 50 cents to settle at $55.91. Oil prices were mostly mixed last week after EIA's weekly report revealed that total domestic crude inventories grew by 2.4 million bbl, bringing the total 419.5 million bbl. The current level is 23.5 million bbl higher than where it was at this time last year. The higher level has kept prices in check as concerns that global crude demand may be impacted by the ongoing trade war between the U.S. and China.
Additionally, crude prices have also been shaken as a result of market concerns that global supply could be reduced due to escalating tension in the Middle East. Crude prices increased moderately last week after the U.S. Department of Defense said it would deploy radar systems, Patriot missiles and about two hundred personnel to bolster Saudi Arabia's defenses after an attack on two of its oil facilities earlier this month. If EIA's report shows another crude inventory build, crude prices could end the week down. However, any escalation in the U.S.-China trade war or tensions in the Middle East could see them spike.
AAA has a variety of resources to help motorists save on fuel:
AAA is 'pumping' up its 'Don't Drive Intoxticated, Don't Drive 'Intexticated' distracted driving campaign by targeting motorists where they are most likely to see it – at gas stations.  The Don't Drive Intoxicated, Don't Drive Intexticated messaging can be seen at select gas stations in Richmond, Virginia right on the pump handle and/or sitting atop the pumps themselves.  Everyone is encouraged to take the pledge to drive distraction free via this link and share their pledge on social media tagging @AAAVANews on Twitter or AAA Mid-Atlantic News on Facebook.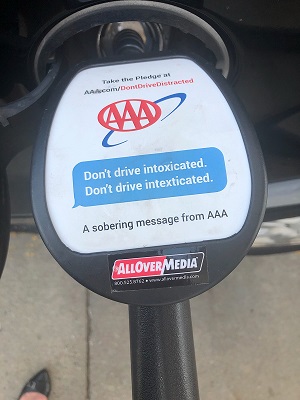 AAA is the most comprehensive resource for gas prices.  Unlike the Lundberg Survey of 7,000 gas stations, AAA reports reflect actual prices from credit card transactions at more than 100,000 gas stations in the U.S. 
VA Mailing Address:
9210 Arboretum Pkwy, Ste 290
Richmond, VA 23236
AAA provides automotive, travel and insurance services to 57 million members nationwide and more than one million members in Virginia.  AAA advocates for the safety and mobility of its members and has been committed to outstanding road service for more than 100 years.  The not-for-profit, fully tax-paying member organization works on behalf of motorists, who can now map a route, find local gas prices, discover discounts, book a hotel and track their roadside assistance service with the AAA Mobile app for iPhone, iPad and Android.
For more information, visit www.AAA.com.
Related Articles