HARTFORD, CT (October 30, 2020) – With the forecast calling for the first snow in some parts of Connecticut and wet roadways elsewhere, AAA is reminding motorists to adjust their driving behaviors accordingly.
"Although there have been fewer cars on the road this year because of COVID-19, there has been a disproportionately high number of serious and fatal crashes, with speed being a significant factor," says Amy Parmenter, spokesperson for AAA in Greater Hartford. "Waking up to wet weather should serve as a wakeup call for all drivers to slow down."
According to research by the AAA Foundation for Traffic Safety, winter storms, bad weather and sloppy road conditions are a factor in nearly half a million crashes and more than 2,000 road deaths every winter.
AAA Offers These Winter Weather Driving Tips:
Slow down

– whenever there's a change in conditions, it's critical that all drivers adjust their driving behaviors accordingly

Drive Defensively

– increase following distance, which will allow more time to react if you or the driver in front of you loses control

Limit distractions

– always. But in bad weather, drivers should be looking ahead in anticipation of any unexpected changes in road conditions or traffic.

Never use cruise control

– drivers want to maintain full control of vehicle when roads are wet or snow covered

Turn on headlights

– so you can see and be seen

If you do skid or lose control, always look and steer in the direction you want the vehicle to be headed
Winter Car Care
AAA is also reminding all motorist to make sure their vehicles are winter road ready.
AAA Car Care Tips:
Check Battery - Starting an engine in cold temperatures can take up to twice as much current as needed under normal conditions. The average battery lasts 3-5 years in New England
Have the battery and charging system tested by a trained technician.

Make sure the battery terminals and cable ends are free from corrosion and the connections are tight.
Check Tires
Check tire pressure - colder weather typically requires increasing tire pressure.

Make sure pressure levels match those found in either the owner's manual or on the driver's door jamb, and note that pressure levels may be different for front and rear tire.

Check tire tread – test tread depth twith a quarter. If all of Washington's head can be seen, time for new tires.

Spare tires – motorists should know whether their vehicle comes with a spare tire (many newer cars do not). This helps AAA know whether to send a light service vehicle (to put on the spare) or a tow truck for a vehicle without a spare.
Check Wiper Blades - The blades should completely clear the glass with each swipe. Replace any blade that leaves streaks or misses spots.
Check Washer Fluid - Fill the windshield washer fluid reservoir with a winter cleaning solution that has antifreeze components to prevent it from freezing.
Prepare Winter Emergency Kit
"Imagine yourself stranded roadside in the dark and the cold. Emergency supplies should include whatever you would need to keep you - and your passengers - safe and warm while waiting for help to arrive", Parmenter says. "And this year, that emergency kit should include a few extra masks, to ensure everyone can safely interact with anyone who comes to the rescue".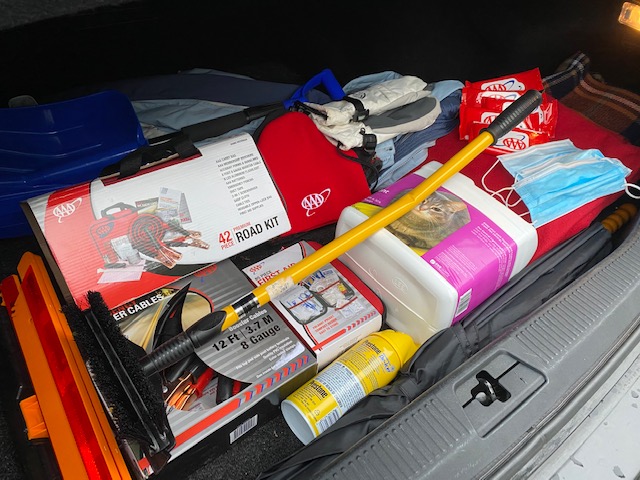 Recommended Winter Emergency Kit (photo attached):
Fully charged cellphone.

car charger and/or external battery for your phone

face masks

bag of sand, cat litter, rock salt or traction mats

wiper fluid, windshield de-icer

flashlight with extra batteries

first-aid kit

windshield scraper and brush

emergency flares or reflectors

battery booster cables

small shovel

blankets, extra gloves, hats, scarves and socks

hand/foot warmers

drinking water and non-perishable snacks (protein bars, granola bars, pretzels, crackers)
AAA Offers FREE BATTERY and TIRE TESTING
AAA provides FREE battery and tire testing

for members at home or at work. 

AAA offers FREE battery and tire testing for members and non-members alike at any of our AAA Car Care locations (755 Queen St, Southington) or any AAA Approved Auto Repair.
CT Mailing Address:
815 Farmington Avenue
West Hartford, CT 06119
AAA provides automotive, travel and insurance services to 58 million members nationwide and more than one million members in Connecticut.  AAA advocates for the safety and mobility of its members and has been committed to outstanding road service for more than 100 years. The not-for-profit, fully tax-paying member organization works on behalf of motorists, who can now map a route, find local gas prices, discover discounts, book a hotel and track their roadside assistance service with the AAA Mobile app for iPhone, iPad and Android. For more information, visit www.aaa.com.
Related Articles