Ragina C. Ali
Public Relations Manager, MD
O: (410) 616-1900 (ext. 4361152)
C: (443) 465-5020
RAli@aaamidatlantic.com

TOWSON, MD (Thursday, March 5, 2020) –– Wake up sleepyhead. Springing into Daylight Saving Time means many drowsy motorists may lose a spring in their step as they face a darker morning drive or sun glare from a rising sun. Daylight Saving Time begins at 2 a.m. this Sunday, March 8, when we set our clocks one hour ahead. Legislation is in the works to end the clock-switching practice throughout the Mid-Atlantic region, including in Maryland.

"A change in time can mean that drivers are more tired than they realize. Transferring daylight from the morning to the evening also means drivers and pedestrians will have to adjust to a darker morning commute to work or school," says Ragina C. Ali, Manager of Public and Government Affairs for AAA Mid-Atlantic. "It's critical that both drivers and pedestrians are aware of the potential dangers and act with caution."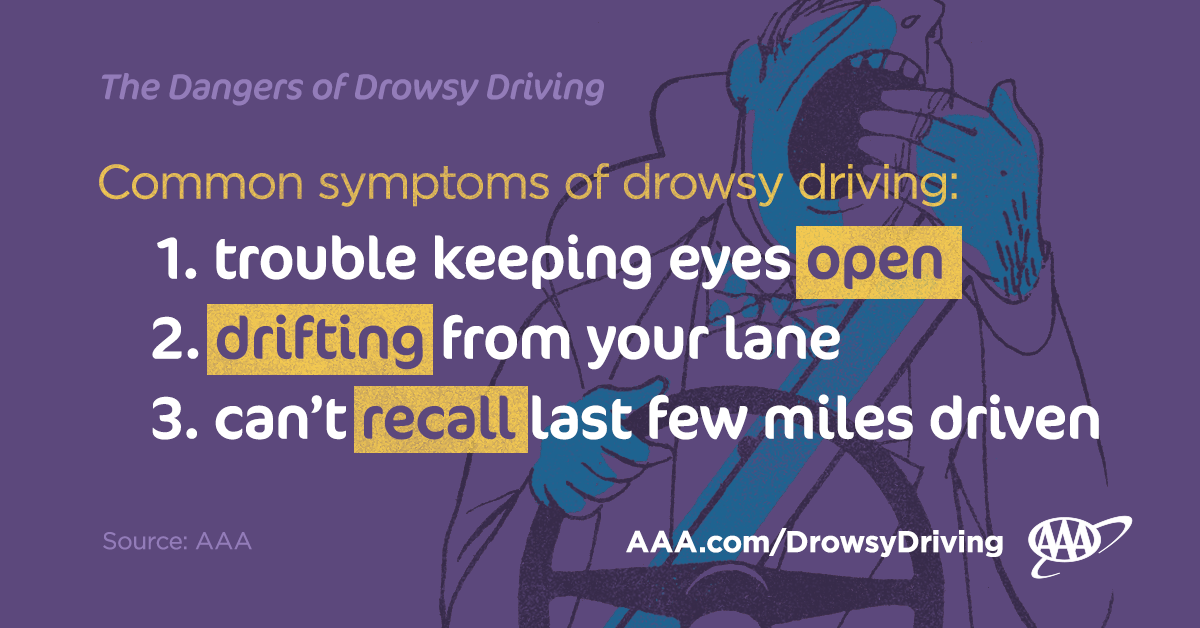 Drowsy Driving
The AAA Foundation for Traffic Safety recently released the most in-depth drowsy driving research ever conducted in the U.S., using footage of everyday drivers, which found drowsy driving is a factor in approximately 10% of all crashes – that is eight times higher than previous federal estimates. 
"AAA warns that drivers who miss just one or two hours of the recommended seven hours of sleep in a 24-hour period nearly double their risk for a crash," says Ali.
The Centers for Disease Control and Prevention says that 35% of U.S. drivers sleep less than the recommended minimum of seven hours daily. In a related AAA Foundation survey, nearly all drivers - 96% - say they view drowsy driving as a serious threat to their safety and a completely unacceptable behavior. However, 27% admitted to driving when they were so tired they had a hard time keeping their eyes open.
Darkness
The other issue increasing risk with the time change is darkness. The Monday morning commute, and the morning commute for several weeks to come, will be much darker than what drivers are used to, a serious concern because 76% of pedestrian fatalities happen when it's dark, according to the latest findings from the Governor's Highway Safety Association (GHSA) released in February 2020.
Since most pedestrian fatalities occur in urban areas, GHSA also examined changes in the number of pedestrian fatalities for the ten most populous U.S. cities. The total number of pedestrian fatalities for the ten largest U.S. cities increased by approximately 7%, from 613 fatalities in 2017 to 655 in 2018. 
Efforts to end the clock change
Ten states have passed bills or resolutions to stop the practice of changing clocks twice a year. Another 31 states have introduced legislation to follow suit, and there are two bills in the U.S. Congress to address the issue. The Maryland Assembly is currently considering HB 1610 and SB 517. Neighboring Delaware passed a bill in 2019, which calls for the state to end the clock change as soon as Pennsylvania, New Jersey and Maryland pass similar legislation. All state legislation will require related changes to federal law prior to enactment.
AAA offers motorists and pedestrians the following safety tips:
AAA Tips for Drivers
Slow down, pay attention and eliminate all distractions.

Watch out for pedestrians when backing up in parking lots or driveways.

Keep vehicle headlights and windows (inside and out) clean.

Sun glare can make it difficult to see so:

Turn on your headlights to make yourself more visible during early morning and evening hours.

Watch the high beams.  Do not use high beams when other cars or pedestrians are around.

Yield to pedestrians at crosswalks. Do not pass vehicles stopped at crosswalks.
AAA Tips for Pedestrians
Cross at intersections or crosswalks - not in the middle of the street or between parked cars.  Do not jaywalk.

Avoid walking in traffic where there are no sidewalks or crosswalks. If you have to walk on a road that does not have sidewalks, walk facing traffic.

Evaluate the distance and speed of oncoming traffic before you step out into the street.

Wear bright colors or reflective clothing if you are walking near traffic at dawn, dusk and night. Carry a flashlight when walking in the dark.

Allow extra time and distance for a vehicle to stop in inclement weather.

While walking, pocket the cell phone and avoid listening to music/audio player at a volume that prohibits you from hearing approaching danger.
Do not let umbrellas or jacket hoods block your view of approaching traffic. 
Follow us on Twitter: @AAAMDNews
Like us on Facebook: AAA Mid-Atlantic News
Mailing Address:
8600 LaSalle Road, Ste 639
Towson, MD 21286
AAA provides automotive, travel and insurance services to over 60 million members nationwide and nearly 988,000 members in Maryland.  AAA advocates for the safety and mobility of its members and has been committed to outstanding road service for more than 100 years.  The not-for-profit, fully tax-paying member organization works on behalf of motorists, who can now map a route, find local gas prices, discover discounts, book a hotel and track their roadside assistance service with the AAA Mobile app for iPhone, iPad and Android.  For more information, visit AAA.com.
Related Articles