Mark Madeja
Senior Specialist, Public & Government Affairs
O: (918) 748-1074
C: (918) 935-9318
Mark.madeja@aaaok.org

October 28, 2020 – AAA Oklahoma offers the following tips when dealing with auto and homeowners insurance coverage and claims questions in the aftermath of this week's ice storm:
AAA Tips on Dealing with Power Outages:
Never run a generator in a closed structure.

Avoid opening refrigerator or freezer doors in order to prevent food spoilage.

In the event that your power is out for an extended period of time, consume food that may spoil first. Generally, most homeowners policies have coverage for food spoilage up to a $1,000 loss, subject to deductible, if applicable.

Don't refreeze meat that has thawed. Go ahead and cook the meat on an outdoor grill to avoid spoilage.

Unplug sensitive electronic devices such as TVs and computers to avoid power surge damage.

Have on hand a supply of water that equates to 1-gallon of water per person per day for a minimum of 3 days.

Use extreme care operating alternate power sources such as candles. 

Keep your cell phones charged and use only when necessary to conserve power. Take advantage of electric outlets in public locations that have power.

Have a family preparedness plan. Your family may not be together when an emergency strikes, so it is important to plan in advance: how you will contact one another; how you will get back together; and what you will do in different situations. Be sure every member of your family has a fully charged cell phone, coins, or a prepaid phone card to call an emergency contact. If you have a cell phone, program that person(s) as "ICE" (In Case of Emergency) in your phone. If you are in an accident, emergency personnel will often check your ICE listings in order to get a hold of someone you know.
 AAA Tips on Insurance Coverage for Vehicles and Homes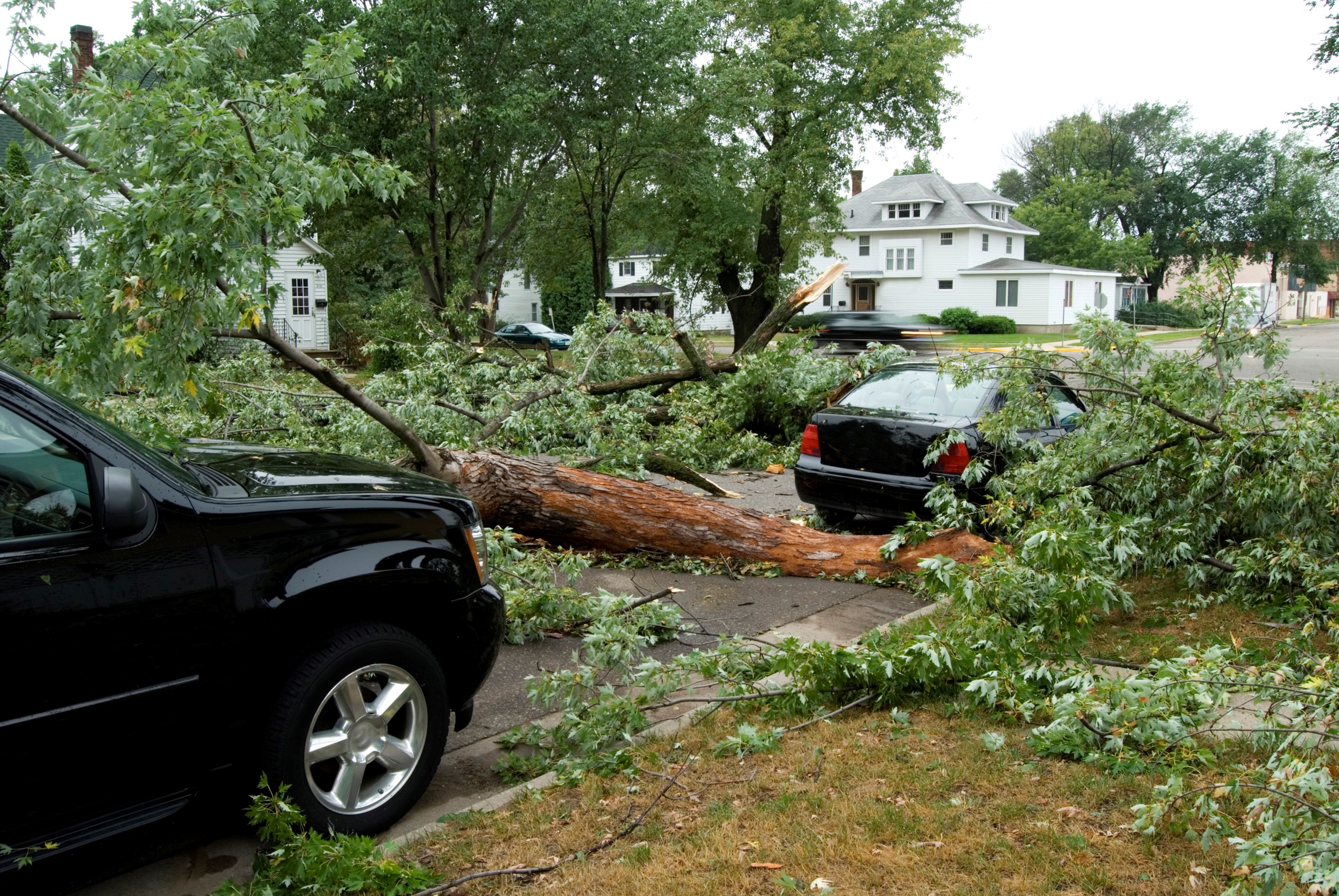 AAA Tips for Fallen Trees:
If

your

tree falls on

your

house, your insurance will cover removal of the tree and home repairs due to damage.
If

your

tree falls on

your neighbor's

house

,

your neighbor's homeowner's policy would provide insurance coverage.  The same holds true if your neighbor's tree falls on your home; you would file a claim with your own insurance company.

If a tree falls in your yard, but doesn't hit anything, you would pay for its removal in most cases.

Additionally, if a tree on your property is weak, damaged, or decayed, but you do nothing about it, and it crashes down, you could be held liable for damages. 

Tree limbs that fall on a house or other insured structure on the property would be covered for both the damage the tree inflicts on the house and the cost of removing the tree, generally up to about $500. Other objects that fall on the home are also covered.

Homeowners policies also include additional living expenses—in the event a home is severely damaged by an insured disaster, this would pay for reasonable expenses incurred by living elsewhere while the home is being fixed or rebuilt.
Vehicles:
Physical damage to a car caused by heavy wind or fallen tree limbs is covered under the optional comprehensive portion of an auto policy.

If your car is damaged by a fallen tree or limbs, you would need to file a claim using your vehicle policy's comprehensive coverage. 
For homeowners who experienced damage to cars, homes or property, AAA recommends these tips to help the claims process go smoothly:
Take appropriate immediate and temporary measures to prevent further damage

. If you do make minor repairs before an insurance adjuster arrives, save receipts to submit for reimbursement.

Call your insurance agent or company immediately.

Be prepared with a list of questions ahead of time: Am I covered? Does my claim exceed my deductible? How long will it take to process my claim? Will I need to obtain estimates for repairs to structural damage?

If your home is damaged to the extent you cannot live there, find out if you have coverage for additional living expenses for accommodations while repairs are completed

. If you do stay at a hotel, keep your receipts for reimbursement.

Schedule a time for an adjuster to inspect the damage to your property.

Prepare a list of lost or damaged articles.

Avoid throwing out damaged items until the adjuster has visited. Consider photographing or videotaping the damage.

Get claim forms.

Insurance companies will send required claim forms by a specified time period. Be sure to completely fill out the form and return promptly to avoid delays. 
Related Articles