Mark Madeja
Senior Specialist, Public & Government Affairs
O: (918) 748-1074
C: (918) 935-9318
Mark.madeja@aaaok.org

June 3, 2021 – As Oklahoma teens embrace a summer with eased COVID-19 restrictions, AAA Oklahoma warns of inexperienced drivers who undervalue safety precautions. Known as the "100 Deadliest Days", the period between Memorial Day and Labor Day is the most dangerous for teens on the road. "No one would blame teens for wanting to recapture the excitement of summer traditions and times with friends," said Leslie Gamble, AAA Oklahoma Public and Government Affairs Manager. "But, while driving, giving into adrenaline and distractions can be deadly."
Nationwide, more than 7,000 people died in crashes involving teen drivers from 2010 to 2019 during the "100 Deadliest Days," the period between Memorial Day and Labor Day. That's more than seven people a day each summer, compared to the rest of the year (six people per day).
In Oklahoma
210 teen drivers were involved in fatal crashes

during the "100 Deadliest Days" from 2010 to 2019.

238 people were killed in crashes involving teen drivers

during the same, ten-year timeframe.
(Source: Oklahoma Highway Safety Office)
"There are more daily deaths in crashes involving teen drivers during the summer months because teens tend to have more unstructured time behind the wheel," said Gamble. "We can encourage teens to double down on staying focused when driving, buckling up for every ride, and driving within posted speed limits."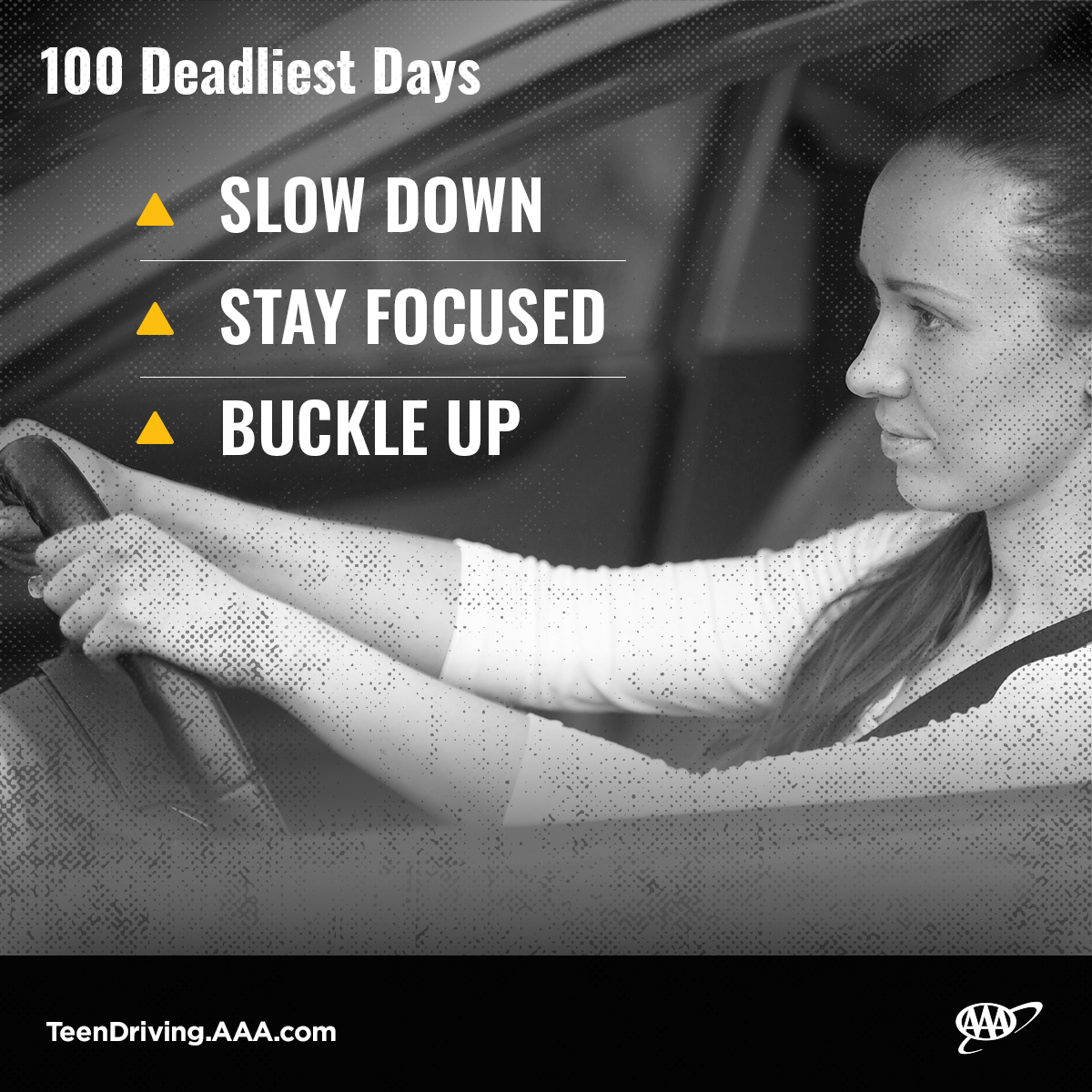 Due to their inexperience, teen drivers are at a higher risk of crashes. According to the AAA Foundation 2019 Traffic Safety Culture Index, about 72% of teen drivers aged 16-18 admitted to having engaged in at least one of the following risky behaviors in the past 30 days:
Driving 10 mph over the speed limit on a residential street (47%)

Driving 15 mph over the speed limit on a freeway (40%)

Texting (35%)

Red-light running (32%)

Aggressive driving (31%)

Drowsy driving (25%)

Driving without a seatbelt (17%)
AAA Oklahoma urges parents and other adults involved with teen drivers to both model safe driving behaviors and help ensure their teens practice them, too. Establish a parent-teen driving agreement that sets family rules for teen drivers. To support parents in conducting practice driving sessions, AAA provides a free four-page guide to help parents coach their teens on how to drive safely, Coaching Your New Driver - An In-Car Guide for Parents. It offers behind-the-wheel lesson plans, including various "DOs and DON'Ts" to make the learning experience as helpful as possible.
"Parents remain the best line of defense to keep everyone safe behind the wheel," said Gamble. "We speak volumes with our actions when it comes to distracted driving, speeding and the impairing effects of alcohol and marijuana. If we minimize or dismiss our own risky behaviors, our teens are less likely to highly value safe driving practices."
AAA Teen Driver Website has a variety of tools to help prepare parents and teens for the dangerous summer driving season. The online AAA StartSmart Parent Session also offers excellent resources for parents on how to become effective in-car coaches as well as advice on how to manage their teen's overall driving privileges. Teens preparing for the responsibility of driving should enroll in a driver education program that teaches how to avoid driver distraction and other safety skills.
About AAA Foundation for Traffic Safety: Established in 1947 by AAA, the AAA Foundation for Traffic Safety is a not-for-profit, publicly funded, 501(c)(3) charitable research and educational organization. The AAA Foundation's mission is to prevent traffic deaths and injuries by researching their causes and by educating the public about strategies to prevent crashes and reduce injuries when they do occur. This research is used to develop educational materials for drivers, pedestrians, bicyclists and other road users. Visit www.AAAFoundation.org.
Related Articles