Mark Madeja
Senior Specialist, Public & Government Affairs
O: (918) 748-1074
C: (918) 935-9318
Mark.madeja@aaaok.org

August 24, 2021 – AAA Inspected powered by SureSale, a new program that helps consumers buy quality used cars with confidence, is now available at Oklahoma City Volkswagen, 4710 NW 39th St, the first dealer in the city to offer it.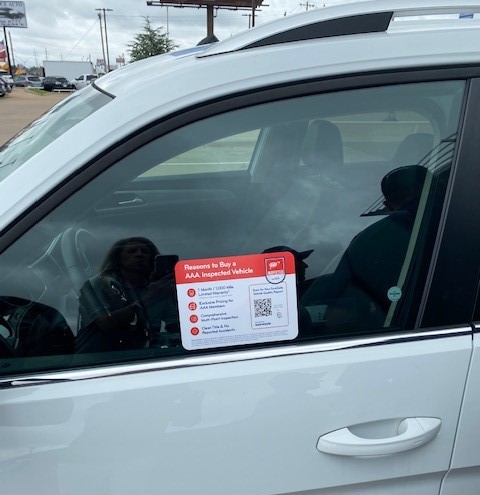 AAA Inspected includes a multi-point vehicle inspection coupled with an onsite evaluation by an independent automotive technician. The result is a comprehensive accounting of a vehicle's past history, current condition and future performance. AAA Inspected is free to used car shoppers and can be accessed online or at the dealership via a QR code.
"For 100 years, Oklahomans have trusted AAA to keep them safely on the road, covering members with insurance, roadside assistance and more. With AAA Inspected, we've added quality pre-owned cars to the list," said Keith McIntyre, AAA Inspected Program Manager, AAA Club Alliance. "Unlike commonly used industry reports, such as Carfax, which are limited to a vehicle's past history, AAA Inspected utilizes the SureSale proprietary platform and network of qualified automotive technicians to tell the vehicle's whole story – past, present and future."
Car buyers can bypass the hassle of taking a vehicle to a mechanic, friend or family member to provide an objective opinion. "We've eliminated the need for that extra step when evaluating a used vehicle, while still providing a potential buyer with a third-party assessment of the vehicle's quality," commented McIntyre.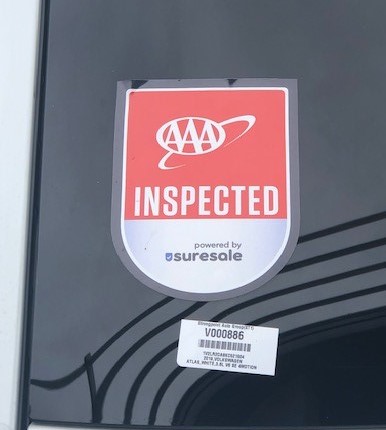 AAA research shows that its members place a higher value on vehicles that are independently inspected*, leading AAA and SureSale to partner to develop the service. To date, about 17 percent of the vehicles inspected at various dealerships have not earned the AAA Inspected vehicle rating.
AAA Inspected vehicles come with a limited warranty. Additional benefits, exclusive for AAA members, are also available. The program is currently available in Oklahoma and Kansas. Car buyers in those states can access AAA Inspected, powered by SureSale at AAA.com/Inspected.
About Oklahoma City Volkswagen
Oklahoma City Volkswagen provides a family-oriented, approachable buying experience, no matter if this is your first car or your fifth. If you need assistance with finding the right car, financing it, or keeping it in tip-top shape, we are here to guide you every step of the way. However, we provide more than just a streamlined car buying experience. We are also focused on supporting our community.
About AAA Club Alliance 
AAA Club Alliance, Inc. is the third largest AAA club in the national AAA federation and serves more than six million members in Connecticut, Delaware, Indiana, Kansas, Kentucky, Maryland, New Jersey, Oklahoma, Ohio, Pennsylvania, South Dakota, Virginia, West Virginia, and Washington, DC. AAA provides automotive, travel and insurance services, advocates for the safety and mobility of its members, and has been committed to outstanding road service for more than 100 years. AAA is a non-stock, not-for-profit corporation working on behalf of motorists, who can map a route, find local gas prices, discover discounts, book a hotel, and track their roadside assistance service with the AAA Mobile app (AAA.com/mobile) for iPhone, iPad and Android. For more information, visit www.AAA.com.
About SureSale
Founded by a team of automotive/tech innovators, award-winning SureSale makes it easy for auto retailers, independent technicians and repair facilities to share trusted vehicle history and real-time condition information about used vehicles with the SureSale app. The SureSale vehicle quality report analyzes thousands of vehicle data points, including history and condition, helping increase consumer purchase peace of mind. SureSale, which won the 2020 Gold Stevie® Award for "Innovation of the Year," was founded to help the auto market meet the demand for inspected, high-quality pre-owned vehicles among the US' 40 million used car buyers. SureSale is based in Santa Monica, CA. Visit suresale.com for more information.
*Source: AAA Certified Qualitative Research Study – "Used Vehicle Inspection and Certification Concept & Pricing Test", AAA Club Partners, Inc., January 2011 (83% of AAA members say they would or might pay more for a vehicle that is inspected by AAA)
AAA Inspected vehicles are inspected by independent third-party or dealership technicians. All parties are independent contractors or dealership employees. Any acts, errors or omissions arising out of inspections performed by independent third-party or dealership technicians are subject to applicable SureSale Terms (including disclaimers of warranties) found at https://www.suresale.com/terms-privacy. AAA shall not be liable for any damage, injury or loss occasioned by or arising out of customer's use of the SureSale program or purchase of a vehicle through such program.
Related Articles