Mark Madeja
Senior Specialist, Public & Government Affairs
O: (918) 748-1074
C: (918) 935-9318
Mark.madeja@aaaok.org

August 9, 2021 - For the second consecutive year, AAA Club Alliance, which locally includes AAA Oklahoma, is 'stepping up' in August to help with hunger relief that continues at alarming rates during the pandemic.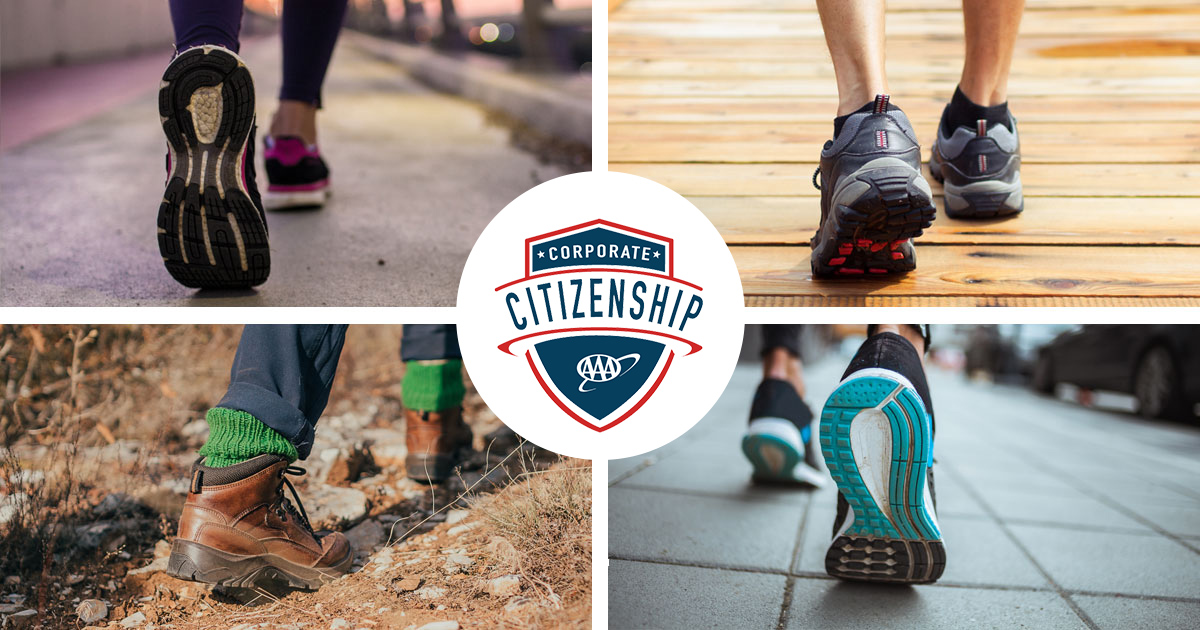 Food insecurity rates, especially among children, have been projected to rise to  unprecedented levels during 2020-2021 compared to 2019 because of the pandemic, according to The Impact of the Coronavirus on Food Insecurity study released by the national hunger relief non-profit organization, Feeding America.   
Recognizing this crisis, AAA Club Alliance employees will lace up their sneakers for the Stepping Up For Hunger challenge August 9-22, which focuses on wellness while providing hunger relief for their neediest neighbors. AAA Oklahoma associates will join their colleagues throughout AAA Club Alliance's 13-state region, plus the District of Columbia, in tracking their steps for a company-wide effort to raise awareness for Feeding America and their member food banks that are located in the auto club's service area.   
The Stepping Up For Hunger challenge is to walk, run, jog, or engage in any manner of movement to
reach this year's goal of 42 million steps, a step for each hungry American. This year's ambitious goal is nearly double last year's result of 22 million steps, which was accomplished in only one week's time.   
Upon achievement of the step goal, AAA Club Alliance will make a donation of approximately 200,000 meals to Feeding America's 13 local food banks in the auto club's service area.
 "AAA and our employees recognize how the pandemic continues to greatly impact food insecurity, especially for children," said Amber Zionkowski, Corporate Citizenship Manager for AAA Club Alliance, the third largest AAA club in the nation.  "The auto club is proud to once again do its part in the campaign against hunger in the communities we serve." 
Food insecurity has been especially hard on children during the pandemic because of school closures that deprived children of needed free or low-cost meals.  For 2021, 1 in 6 children, representing 17.9 percent or 13 million of U.S. children, suffer from hunger, reflecting a 21.5 percent growth compared to 10.7 million children in 2019.  With schools re-opening for in-person learning, children heading back to school will find some relief, as they will have access to one to two meals on a daily basis, although weekends typically pose a challenge when home from school.  
Oklahoma ranks 6th in the nation with the highest projected overall food insecurity rate in 2021.
For 2021, 16 percent or 637,200 of all Oklahoma residents, are projected to have a lack of access to sufficient food due to limited financial resources, a forecasted increase of nine percent compared to actual 2019 data of 583,570 residents (14.7 percent). 
The projected 2021 food insecurity rate for children is even higher at 22.5 percent or 214,650 of all children living in Oklahoma.  The projected 2021 number of hungry children is forecasted to rise by ten percent compared to actual 2019 data of 194,700 (20.4 percent).  
"AAA Club Alliance's campaign inspires and provides best practices for AAA Clubs and other organizations to take part in similar campaigns to support Feeding America and to help provide meals to people facing hunger," said Teresa Gruber, Director, Employee Engagement at Feeding America. 
The Stepping Up For Hunger challenge is part of a broader corporate citizenship initiative for hunger relief, which includes employee volunteerism.  As part of 'AAA Day of Citizenship', employees will be volunteering at local food banks throughout the two-week campaign in a variety of activities such as packing food in backpacks to pass out to children on the first Friday of the new school year to sustain them through the weekend, and sorting food for seniors and COVID-relief packages.  
"Employee volunteerism in the communities in which we live and serve our members has always been a part of our culture at AAA," commented Leslie Gamble, Public & Government Affairs Manager,  AAA Oklahoma. "AAA is proud that the Community Food Bank of Eastern Oklahoma will be among the several charitable organizations receiving additional support in the form of helping hands, thanks to our associates as they volunteer their time." 
On August 19, AAA associates will volunteer their time at the Regional Food Bank of Oklahoma, working in the food bank's warehouse and assembling food packages for families including backpacks for kids.
AAA Members and the general public who desire to help support the campaign may do so at any retail store in AAA Oklahoma.  Purchases at local participating AAA stores can be rounded up with the cost difference being donated to Feeding America and their local member food bank based in the AAA retail store's area. Donations will also be accepted without a purchase. For store locations, visit AAA.com/Locations. 
Related Articles