Mark Madeja
Senior Specialist, Public & Government Affairs
O: (918) 748-1074
C: (918) 935-9318
Mark.madeja@aaaok.org

February 1, 2021 – AAA Club Alliance Inc. ("ACA"), known locally as AAA Oklahoma, and SureSale, the award-winning platform for quality used vehicles, today announced the launch of AAA Inspected, powered by SureSale. AAA Inspected is a new program that helps AAA members and non-members buy quality used cars with confidence.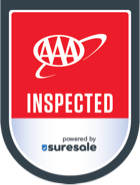 SureSale's proprietary platform and network of qualified vehicle inspectors enables AAA Inspected to assess vehicle quality by analyzing thousands of vehicle data points, combing through vehicle history, and evaluating vehicle condition with an independent 170-point inspection. The program is currently available in ACA's territories in Oklahoma and Kansas.
"For over 115 years, consumers have trusted AAA to keep them safely on the road, covering members with insurance, roadside assistance, and more. With AAA Inspected, we've added quality pre-owned cars to the list," said Keith McIntyre, Director of Auto Buying and Sales at ACA, the third largest club in the national AAA federation.
AAA Inspected provides the information consumers need to feel sure about the used vehicle they are purchasing. This includes an independent inspection by a certified mechanic, and a Factfile™ vehicle report, a comprehensive accounting of the vehicle's past history, current condition and future quality assurance. The Factfile™ report is free, and car shoppers and buyers can access it online or at the dealership.
"Unlike other industry reports, such as Carfax, which are limited to a vehicle's past history, SureSale tells the vehicle's whole story – past, present and future. Thanks to our partnership with SureSale, our members will be able to quickly and easily know that they can trust the quality of a used vehicle," continued McIntyre.
AAA research shows that its members place a higher value on vehicles that are independently inspected, which is why ACA and SureSale analyze multiple data points to ensure that the vehicle is in excellent condition. Only when SureSale has determined that a vehicle meets its quality standard does it become a AAA Inspected vehicle.
"We are proud to partner with ACA to bring a universal standard of quality to AAA Inspected vehicles. AAA is one of the most trusted consumer brands in the country and, with AAA Inspected, consumers can, at last, get an answer to the question: 'Am I buying a reliable, quality used vehicle?'" said Jeffrey Schwartz, SureSale Founder and President.
AAA Inspected, powered by SureSale is free to all car buyers and includes a limited warranty and complimentary 3-month trial of SiriusXM for vehicles with a factory-equipped radio. Additional benefits, exclusive for AAA members, are also available.
Car-buyers in Oklahoma and Kansas can access AAA Inspected, powered by SureSale at AAA.com/Inspected.
About AAA Club Alliance  
AAA Club Alliance, Inc. is the third largest AAA club in the national AAA federation and serves more than six million members in Connecticut, Delaware, Indiana, Kansas, Kentucky, Maryland, New Jersey, Oklahoma, Ohio, Pennsylvania, South Dakota, Virginia, West Virginia, and Washington, DC. AAA provides automotive, travel, and insurance services, advocates for the safety and mobility of its members, and has been committed to outstanding road service for more than 100 years. AAA is a non-stock, not-for-profit corporation working on behalf of motorists, who can now map a route, find local gas prices, discover discounts, book a hotel, and track their roadside assistance service with the AAA Mobile app (AAA.com/mobile) for iPhone, iPad and Android. For more information, visit www.AAA.com.
About SureSale
SureSale offers used vehicle buyers peace of mind with its Factfile™ vehicle report, the single source of truth on the past history, present condition and future assurance of a used vehicle. SureSale's universal standard for used vehicles is delivered through the industry's first, and only, vehicle quality SaaS platform, which also enables franchise and independent dealers to validate, and merchandise, the quality of their used vehicle inventory. SureSale, which won the 2020 Gold Stevie® Award for "Innovation of the Year," was founded to help the auto market meet the demand for inspected, high-quality pre-owned vehicles among the US' 40 million used car buyers. SureSale is based in Santa Monica, CA. Visit https://www.suresale.com for more information.
SureSale Media Contact:
Angela Jacobson, mWEBB Communications, angela@mwebbcom.com, (714) 454-8776
Melanie Webber, mWEBB Communications, melanie@mwebbcom.com, (949) 307-1723
1 SureSale won the Gold Stevie® Award in the "Innovation of the Year" Business Services category in the 18th Annual American Business Awards®.
2 Source: AAA Certified Qualitative Research Study – Used Vehicle Inspection and Certification Concept & Pricing Test", AAA Club Partners, Inc., January 2011 (83% of AAA members say they would or might pay more for a vehicle that is inspected by AAA)
Related Articles