Mark Madeja
Senior Specialist, Public & Government Affairs
O: (918) 748-1074
C: (918) 935-9318
Mark.madeja@aaaok.org

June 28, 2021 —At $3.09, the national gas price average is at its highest of the year and not stopping. That average will increase, possibly as much as another nickel, in the lead up to the Independence Day holiday weekend as AAA forecasts a record-breaking 43.6 million Americans will hit the road for a holiday getaway. This year's Independence Day weekend is defined as Thursday, July 1 – Monday, July 5.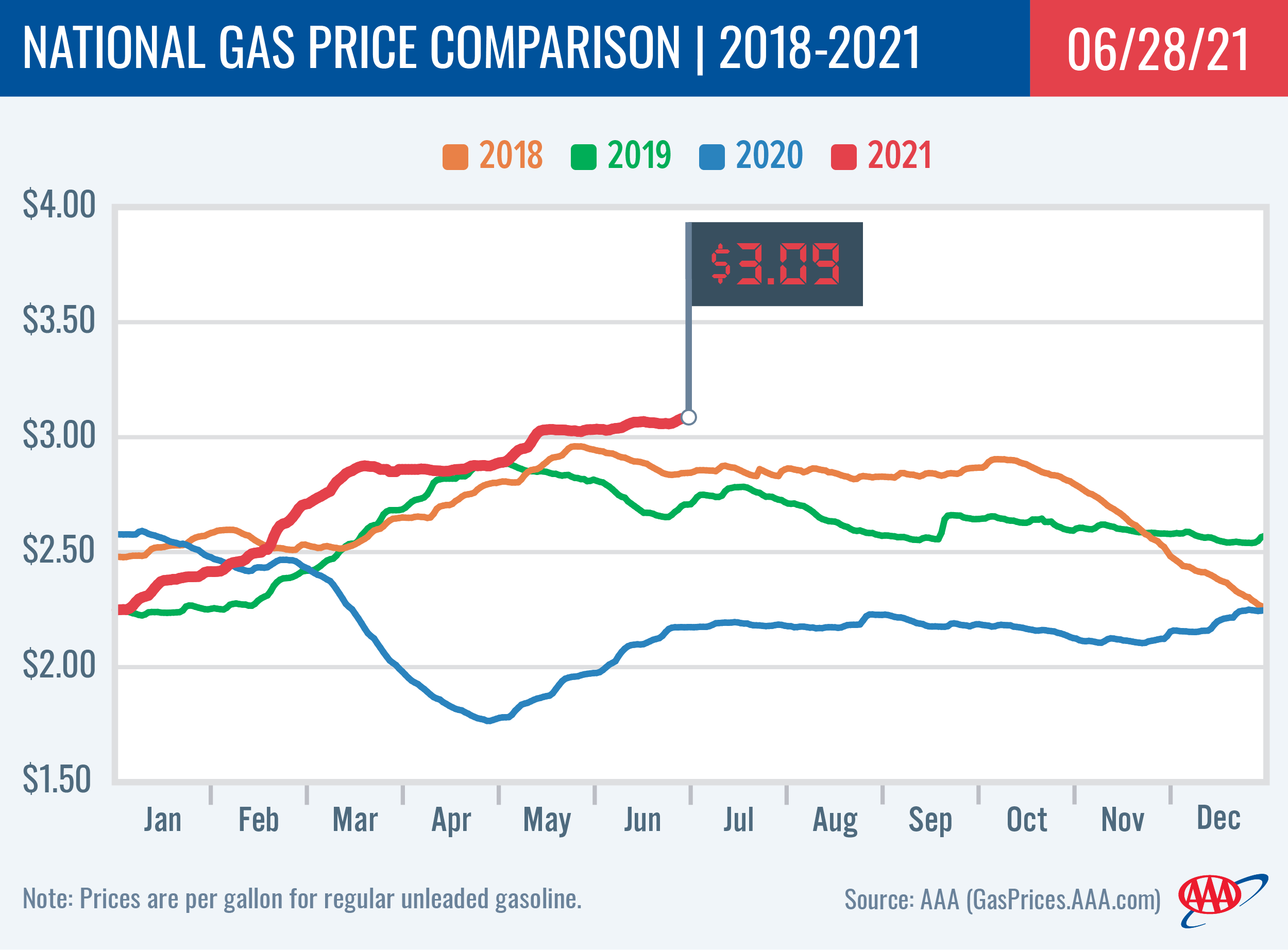 While it is typical to see gas prices increase ahead of a holiday, especially during the peak summer driving season, pump price increases as of late have been noticeable.
Meanwhile, Oklahomans will find some of the lowest prices for gas in the country. Today's state average is $2.80 a gallon, the sixth least expensive state in the nation. Other states in the region such as Texas, Arkansas, Missouri and Louisiana are also among those in the top 10 of low gas prices.
"Today, 89% of U.S. gas stations are selling regular unleaded for $2.75 or more. That is a stark increase over last July 4 when only a quarter of stations were selling gas for more than $2.25," said Leslie Gamble, AAA Oklahoma spokesperson. "Road trippers will pay the most to fill up for the holiday since 2014."
Crude oil, and in turn gas prices, is more expensive compared to years past mostly due to three major factors: confidence in worldwide vaccination rollout, global oil demand spikes, and the easing of travel restrictions leading to optimism for leisure travel. Last week, crude oil sold at $74/bbl, the highest price in nearly three years. Motorists can expect little relief at the pump following the holiday. With crude oil prices likely to continue climbing, gas prices are most likely to increase through the end of summer.
Related Articles