Mark Madeja
Senior Specialist, Public & Government Affairs
O: (918) 748-1074
C: (918) 935-9318
Mark.madeja@aaaok.org

June 28, 2021– Whether it's to visit family and friends or to escape to a scenic national park with plenty of room for social distancing, travelers are exploring America this summer. And, along the way, hotel stays are often looking very different than prior to the pandemic, according to AAA Travel Advisors.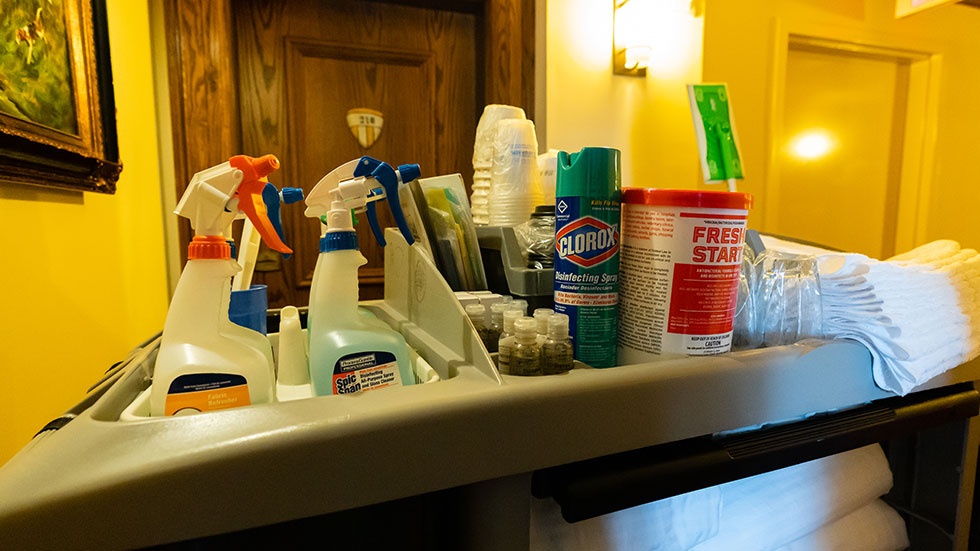 "Since the pandemic, hotels have taken extra precautions and implemented many new safety protocols," says Sheila Nielsen, AAA Oklahoma Travel Advisor. "Knowing what to expect when you stay at a hotel this summer will be key to maintaining your peace of mind as you decide to return to travel."
AAA, which recently announced the "Inspected Clean" enhancement to its Diamond Program, has also developed an additional new resource, "AAA Presents: Put Your Worries to Rest", to offer a first-hand look at what travelers can expect from check-in to check-out.  Once tried-and-true expectations of travel have shifted, especially when booking a hotel stay, all in the name of keeping guests and employees safe. 
For instance, AAA's preferred partner, Best Western® Hotels & Resorts, has implemented the "We Care CleanSM" program to address cleanliness and safety protocols. The program guides everything from the guest rooms to the common areas under the guidance of the Centers for Disease Control (CDC), Occupational Safety and Health Administration (OSHA), and the Environmental Protection Agency (EPA). The streamlined cleaning processes minimize contact between guests and hotel employees while maintaining a high level of service.
Here are hotel enhancements travelers may encounter:
New Check-In and Cleaning Processes are the Norms
Technology at many hotels is helping to keep the guest experience as seamless as possible. With many hotel chains adopting mobile check-in, some guests can bypass the front desk altogether and go straight to their room, using their phone to unlock the room door. Hotel employees across the country, ranging from the front desk staff to housekeeping, have also undergone special training to make sure they're familiar with new processes. The guidance includes wearing personal protective equipment, sanitizing work areas, and enacting frequent and stringent personal safety measures.
AAA Diamond Hotels are "Inspected Clean"
AAA recently announced its latest enhancement to the Diamond Program: Inspected Clean to better meet the needs and expectations of today's travelers. According to AAA research, 76% of consumers surveyed would be disappointed if a third-party inspection did not evaluate whether high-touch areas in a hotel are sanitized. As a result, AAA is enhancing its housekeeping evaluation to include objective, scientific validation of the cleanliness of common surfaces throughout hotels. Hotels that meet AAA's standards for cleanliness, condition, and this new surface cleanliness testing will now be recognized as Inspected Clean and then assigned a Diamond designation.
The Key to Planning Your Hotel Stay
One trend has become clear as hotels resume operations—the need for advanced planning. With pent-up travel demand and hotel rooms being pulled out of service for deep cleaning after a guest stays, availability could quickly become challenging. According to a recent AAA summer travel poll, 56% of Oklahomans already have plans, causing hotels to be far more occupied than last summer.
"Advanced planning is more important this year, as we anticipate that people will need to make reservations that perhaps they had not considered before," says Nielsen. "That includes amusement parks, restaurants and checking hotels to ensure what to expect at their facilities so that you have a memorable and enjoyable trip."
AAA offers the following tips when booking a hotel for a summer vacation:
Book early and be flexible with your travel dates.

Use a trusted travel agent. Booking through a travel agent gives you peace of mind that the agent will advocate on your behalf, getting you the information you need and facilitating any future changes or cancellations. When booking new travel, consumers should ask about cancellation, rebooking, and refund policies. 

Take advantage of hotel discounts with your AAA members.

Contact your hotel of choice and review their cleaning protocols.

Check out AAA's COVID travel map for an update on state and local guidelines.
Related Articles