AAA reopens stores, DMV Services
Licensing Services Available

by Appointment

in All Eight Locations
AAA retail stores with DMV licensing centers have now reopened to the public - but there has been a change. Licensing services, previously available on a first come, first served basis, will now be BY APPOINTMENT in an effort to serve AAA members and the general public in the most efficient, safe manner.
"The appointment system allows AAA to provide licensing services for the greatest number of people, while complying with Covid-19 guidelines and restrictions that limit store capacity and interpersonal contact," says Amy Parmenter, spokesperson for AAA in Greater Hartford. "The process for making an appointment online is extremely user-friendly and, to date, we have found that it is a winning solution for all involved".
"The Department of Motor Vehicles is proud of our longstanding partnership with AAA," said Sibongile Magubane, Commissioner of the Department of Motor Vehicles. "Deadlines have been extended for licenses expiring between March 10, 2020 and June 30, 2020, but our external partnerships with companies such as AAA are providing the public with an immediate solution for renewing their driver's license."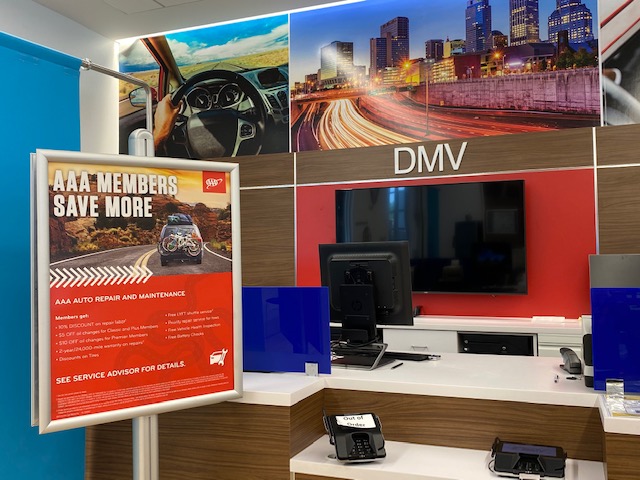 AAA Stores and Appt info:
The licensing services available at AAA locations include 'Real ID' or standard license renewals, non-driver ID renewals and license duplicates. 
The AAA stores providing licensing services include: Avon, Cromwell, Enfield, Manchester, Old Saybrook, Southington, Waterford and West Hartford.
For more information including store hours, locations or TO MAKE AN APPOINTMENT visit: AAA.com or DMV.com.
Expirations Extended
REMINDER: The DMV is offering a 180-day extension period to Connecticut residents with expiring driver's licenses, ID cards and learner's permits. Credentials that expire between March 10, 2020 and June 30, 2020 are automatically covered by the extension.
Follow us on Twitter: @AAAHartfordNews
CT Mailing Address:
815 Farmington Avenue
West Hartford, CT 06119
AAA provides automotive, travel and insurance services to 58 million members nationwide and more than one million members in Connecticut.  AAA advocates for the safety and mobility of its members and has been committed to outstanding road service for more than 100 years. The not-for-profit, fully tax-paying member organization works on behalf of motorists, who can now map a route, find local gas prices, discover discounts, book a hotel and track their roadside assistance service with the AAA Mobile app for iPhone, iPad and Android. For more information, visit www.aaa.com.
Related Articles