AAA: GAS PRICES ANTICIPATED TO DROP BY A QUARTER IN THE MID-ATLANTIC
Less Expensive Crude Oil, Expected Slump in Demand and Winter-Blend Gasoline Driving Pump Prices Down
RICHMOND, VIRGINIA (Thursday, August 22, 2019) – This fall when filling-up at the pump, AAA forecasts that the majority of motorists in Virginia and the rest of the Mid-Atlantic region will likely find savings of potentially 25 cents/gallon compared to this summer.  Cheaper crude oil, the expected decline in gasoline demand after Labor Day and the move to winter-blend gasoline are poised to push gas prices cheaper than they already are at gas stations across the region.
"The cheapest gas prices of the year are likely set to arrive at retail pumps in the Mid-Atlantic states in the months ahead," said Tammy Arnette, Senior Public Affairs Specialist for AAA. "Cheap crude oil and the post-summer demand slump are among the factors that will contribute to the major shift to savings."
Since Memorial Day, gasoline stocks have fluctuated in the region ranging between 58 – 65 million bbl in the Energy Information Administration's (EIA) weekly reports. EIA's report for the week ending August 2 showed a 3-million bbl deficit compared to the beginning of the third quarter in 2018. Part of the year-over-year deficit stems from the pending closure of Philadelphia Energy Solutions (PES), the largest refinery on the East Coast. This would usually lead to a spike in gas prices. However, gasoline imports are easing supply concerns and keeping retail gasoline prices moving lower. Though any further supply disruptions could cause prices in the region to spike temporarily.   
In the region, Pennsylvania, New York, Connecticut and Washington, D.C. traditionally carry the most expensive averages while Virginia and Tennessee tout the lowest.
Oil Dynamics
AAA forecasts crude prices to range between $50 and $60 per barrel this fall. That is a considerable drop from last fall when prices ranged between $60 and $75. Why so cheap? Current total domestic crude inventories sit at 438.9 million bbl, which is 31.5 million bbl higher than last year at this time. The continued glut of oil encouraged the Organization of the Petroleum Exporting Countries (OPEC) and its partners to extend their 1.2 million b/d production reduction agreement through the end of the year. However, so far, reduced supply from OPEC and its partners has not led to a sustained higher price for crude.
As always, hurricane season has the potential to cause declining gas prices to shoot back up. This month, the National Oceanic and Atmospheric Administration predicted that 2019's Atlantic hurricane season is expected to be above normal, with 10 to 17 named storms, including five to nine hurricanes. The mere threat of a hurricane making landfall can shutter domestic crude production, leading to spikes in crude and gasoline prices. In 2017, Hurricane Harvey caused the national gas price average to jump 30-cents in a matter of days.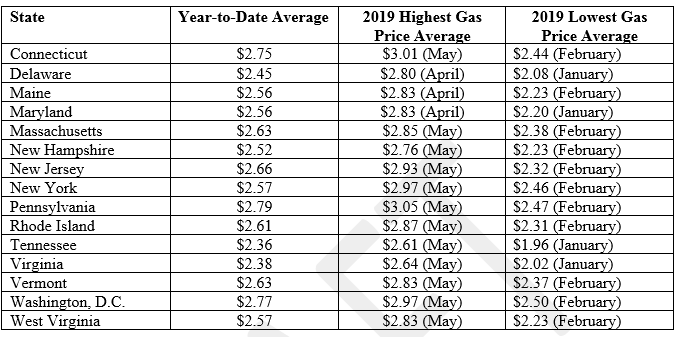 Boost your Vehicle's Fuel Efficiency
In addition to cheaper gas prices, there are other ways to save at the pump and boost your vehicle's fuel efficiency this fall.
According to the AAA Foundation for Traffic Safety, Americans drive an average 11,498 miles per year, and annual per-vehicle gasoline use totals approximately 462 gallons. Poorly maintained vehicles are less efficient and use more fuel. To maintain fuel efficiency for your car, AAA recommends checking the owner's manual for the recommended maintenance schedule, and keep the following in mind:
Perform required maintenance as specified. Keeping tires properly inflated, moving components adequately lubricated, and ignition and emission systems in good operating condition will help ensure maximum fuel efficiency and extend the life of your vehicle.
Change engine oil at the intervals indicated by the in-car maintenance reminder system or factory schedule. Use an "energy-conserving" oil that meets the vehicle manufacturer's specifications.
Keep tires inflated at the proper pressure. Use the fig­ures on the tire information decal on the driver's door jamb — not the one molded into the tire's sidewall. Under-inflated tires reduce fuel economy and can be a safety hazard.
Check the engine air filter at every oil change. A dirty filter won't affect fuel economy on a modern fuel-injected car, but it will reduce engine performance.
Engine spark plugs must be in good condition. Some types last for 100,000 miles, but others need to be replaced more often.
AAA has a variety of resources to help motorists save on fuel:
AAA is the most comprehensive resource for gas prices.  Unlike the Lundberg Survey of 7,000 gas stations, AAA reports reflect actual prices from credit card transactions at more than 100,000 gas stations in the U.S.
VA Mailing Address:
9210 Arboretum Pkwy, Ste 290
Richmond, VA 23236
AAA provides automotive, travel and insurance services to 57 million members nationwide and more than one million members in Virginia.  AAA advocates for the safety and mobility of its members and has been committed to outstanding road service for more than 100 years.  The not-for-profit, fully tax-paying member organization works on behalf of motorists, who can now map a route, find local gas prices, discover discounts, book a hotel and track their roadside assistance service with the AAA Mobile app for iPhone, iPad and Android.
For more information, visit www.AAA.com.
Related Articles