According to a new AAA survey, 64 million American drivers would not be able to pay for an unexpected vehicle repair without going into debt. The findings, AAA says, indicate that many drivers underestimate the full cost of owning and operating a vehicle.
"We learned last week that rising gas prices will impact driver behavior. Now we learn that adding an unexpected repair bill will force many motorists to put it in park." says Amy Parmenter, spokesperson for AAA in greater Hartford. "AAA is encouraging drivers to save money like their mobility depends on it – because it does".
Because some car repairs are unavoidable, and the average repair bill is between $500 and $600, AAA urges drivers to save at least $50 a month for unforeseen expenses.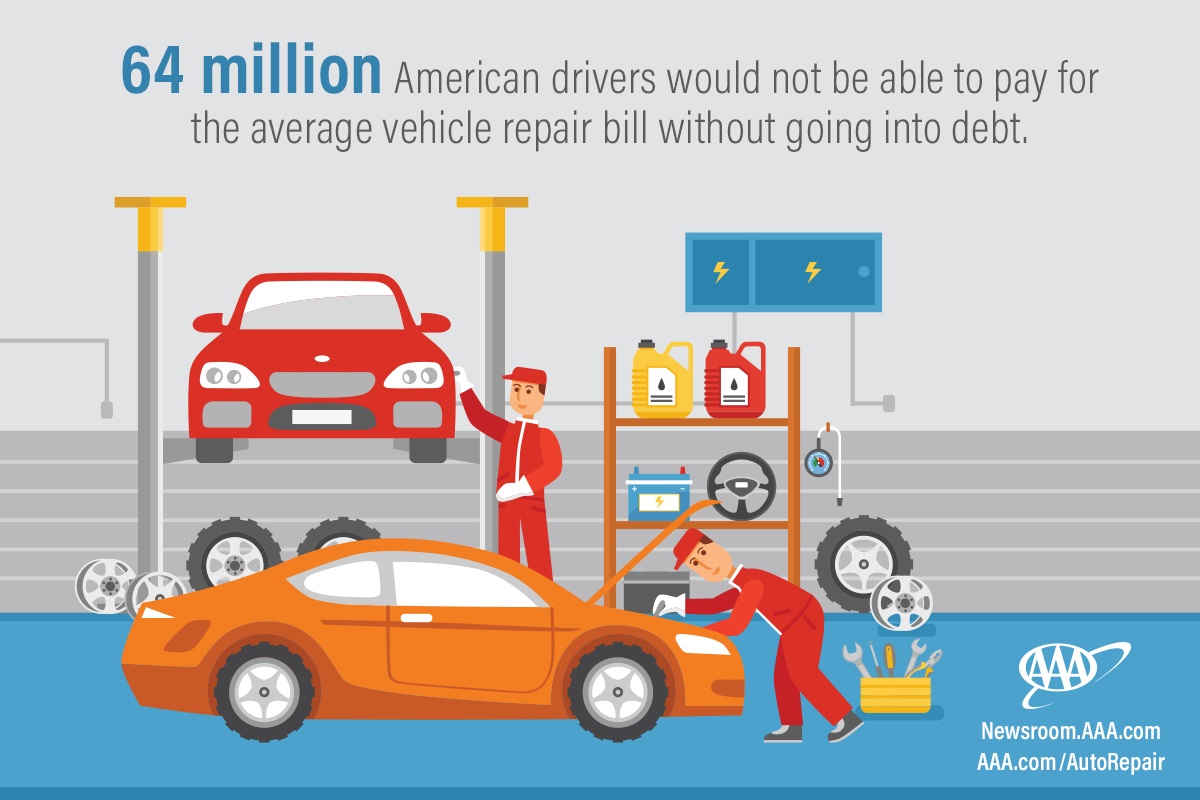 To avoid a surprise down the road, AAA says, drivers should budget for monthly payments, insurance premiums, fuel costs and the inevitable expenses of routine maintenance and repair.
Although an average repair bill can set a driver back up to $600, the cost can soar higher when a vehicle has been poorly maintained. A 
previous AAA survey
 found that one-third of U.S. drivers skip or delay recommended service or repairs, which increases the likelihood of unexpected mechanical failures and leaves a vehicle more vulnerable to roadside breakdown. In 2016 alone, AAA responded to nearly 32 million stranded motorists.
"While it may seem that skipping maintenance and repairs can save money in the short term, staying on top of car care can save drivers hundreds of dollars in the long run" says John Nielsen, AAA's managing director of Automotive Engineering and Repair.
Before a breakdown happens, AAA recommends that vehicle owners:
Follow the manufacturer's recommended maintenance schedule to avoid roadside trouble.
Identify a repair shop you trust. A recent AAA survey found that one-third of U.S. drivers have yet to find a trusted repair facility. Visit AAA.com/autorepair to locate a AAA Approved Auto Repair facility near you.
If faced with an unexpected repair, AAA suggests that drivers:
Get a written estimate for the repair and clarify with the shop the work that needs to be done on the vehicle. Consider getting a second opinion to confirm the diagnosis.
Negotiate the repair bill with the mechanic. Ask if the shop offers any discounts or payment plans that can reduce immediate out-of-pocket costs. 
The AAA Approved Auto Repair (AAR) network consists of nearly 7,000 facilities that have met AAA's high standards, including, technician certifications, ongoing training, financial stability, facility cleanliness, insurance requirements, rigorous inspections and customer satisfaction. AAA members are eligible for special benefits at AAR facilities, including priority service, a 24-month/24,000-mile warranty, discounts, free maintenance inspections, dispute resolution assistance and more.
Follow us on Twitter: @AAAHartfordNews
CT Mailing Address:
815 Farmington Avenue
West Hartford, CT 06119
AAA provides automotive, travel and insurance services to 57 million members nationwide and more than one million members in Connecticut.  AAA advocates for the safety and mobility of its members and has been committed to outstanding road service for more than 100 years. The not-for-profit, fully tax-paying member organization works on behalf of motorists, who can now map a route, find local gas prices, discover discounts, book a hotel and track their roadside assistance service with the AAA Mobile app for iPhone, iPad and Android. For more information, visit www.aaa.com.
Related Articles