Mark Madeja
Senior Specialist, Public & Government Affairs
O: (918) 748-1074
C: (918) 935-9318
Mark.madeja@aaaok.org


Oct. 19, 2018 – Teen drivers put everyone on the roadway at risk of a deadly crash, especially if teen passengers are along for the ride. New research from the AAA Foundation for Traffic Safety found that when a teen driver is on the road with only teen passengers aboard, the fatality rate for all people involved in a crash increased 51 percent. In contrast, when older passengers (35 or older) ride with a teen driver, overall fatality rates in crashes decreased eight percent.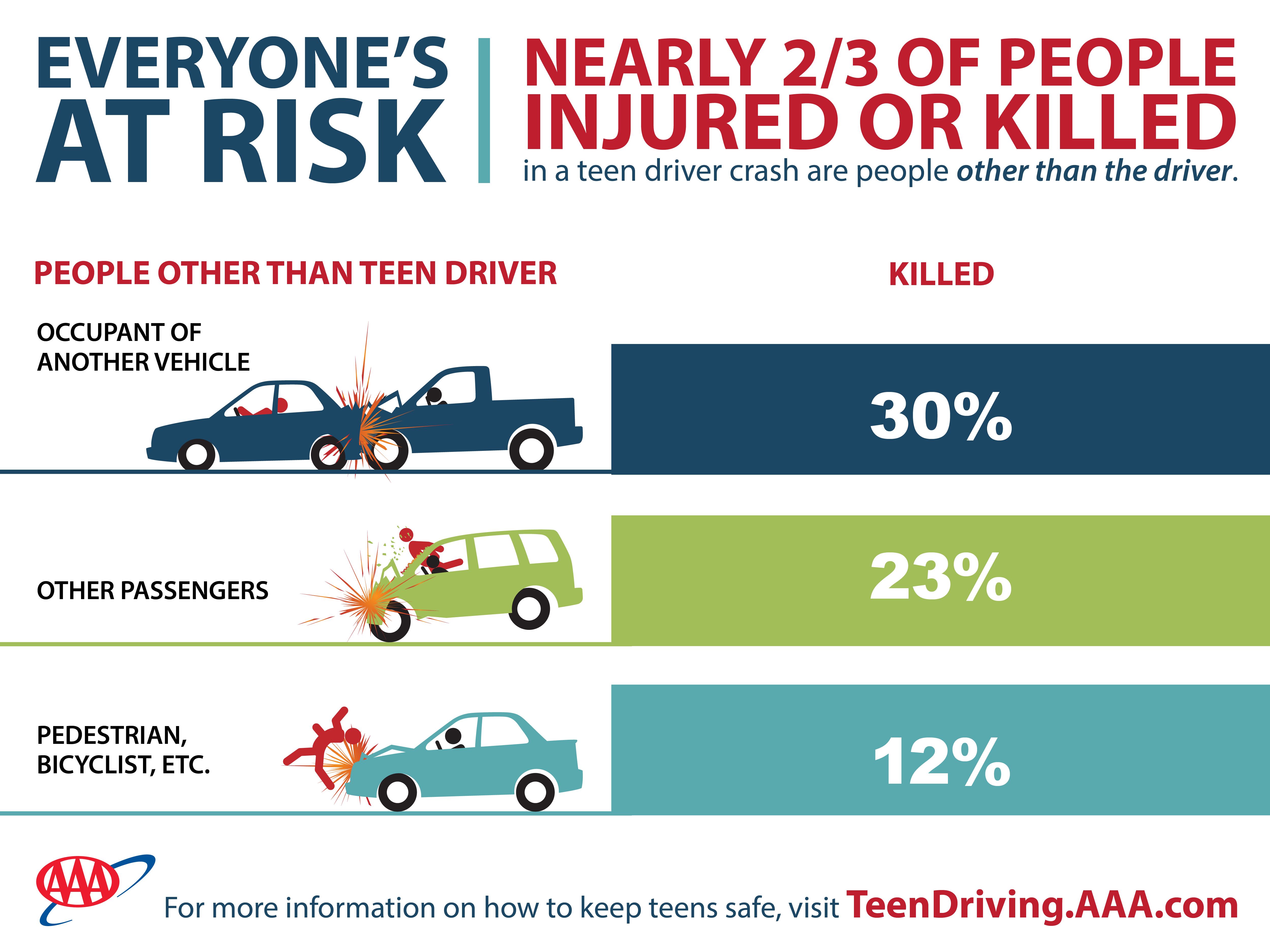 "This analysis shows that in crashes where teen drivers are behind the wheel with a teen passenger, a larger portion of those killed are others on the road," said Dr. David Yang, executive director of the AAA Foundation for Traffic Safety. "This study also found the fatality rate of a teen driver-related crash increased when factors like speeding or driving at night, were introduced."
In Oklahoma, 64 people died in crashes that involved a teen driver in 2016, according to the Oklahoma Highway Safety Office. Teen drivers were involved in 13,910 crashes during the same time, nearly a two percent increase from the previous year.
Becoming A Safe Driver Takes Years
Older Oklahoma teens actually have more wrecks than younger teens, according to the Oklahoma Highway Safety Office's 2016 data. Involvement in crashes peaked at age 18.
"Teens simply lack experience behind the wheel, which increases the odds of a deadly outcome, not just for the teen driver, but for their passengers and others on the roadways," said Leslie Gamble, AAA Oklahoma public affairs manager. "It takes about five years of experience for teens to reach the skill level of most drivers. Parents of teens must take this rite of passage seriously by setting and consistently enforcing rules."
Parents Have Plenty of Tools, Need to Persevere
AAA Oklahoma emphasizes the need for teen drivers to complete formal training like AAA's "How to Drive Online" or other state-certified AAA programs that can also reduce costs for insurance. "Supervised driving – with parents in the passenger seat as the coach - is the first step to teaching teens how to become responsible and safe drivers," Gamble said, "especially in different driving scenarios and conditions, before they are allowed on the roads."
Parents coaching teen drivers are advised to take these approaches:
Log at least 100 hours of supervised practice driving with a parent before driving solo.

Begin by practicing driving in low-risk situations and gradually move to situations that are more complex: highways, nighttime, driving in the rain, and on and around challenging roadways (e.g., curves).

Allow no more than one non-family passenger under the age of 20 to ride with the teen driver during the first six months of driving.

Use slightly different routes each practice session.

Practice adjusting speed based on three factors: visibility, on-road traffic and different road conditions.
Extensive AAA online resources for parents include:
StartSmart newsletters with sequenced content for phases of learning (kind of like "What to Expect When You're Expecting" but for parenting beginning drivers!)

Parent-Teen Agreement to set clear expectations and consequences.
About the study: Data used in the Everyone's at Risk 2018 brief came from the 2016 National Highway Traffic Safety Administration (NHTSA) Fatality Analysis Reporting System (FARS) and the Crash Report Sampling Survey System (CRSS). The FARS database includes all motor vehicle crashes on public roadways that resulted in a fatality within 30 days of crash. The CRSS database is a nationally representative probability sample of all police-reported crashed in the United States.
About AAA Foundation for Traffic Safety: Established in 1947 by AAA, the AAA Foundation for Traffic Safety is a not-for-profit, publicly funded, 501(c)(3) charitable research and educational organization. The AAA Foundation's mission is to prevent traffic deaths and injuries by conducting research into their causes and by educating the public about strategies to prevent crashes and reduce injuries when they do occur. This research is used to develop educational materials for drivers, pedestrians, bicyclists and other road users. Visit www.AAAFoundation.org.
###
Related Articles